Anantara Resort – Mauritius
ANNOUNCEMENT:
Luxury brand Anantara Hotels, Resorts & Spas is expanding to the island of Mauritius with a grand opening planned for the latter months of 2019.
Appropriately named Anantara Mauritius Resort, the property is located a mere 15 minutes from Sir Seewoosagur Ramgoolam International Airport, and close to Blue Bay Marine Park – a protected marine park on the waters of the Indian Ocean.  The pristine coral reefs in the area make this park ideal for snorkelling and diving.
The overall look of the resort takes inspiration from colonial architecture blended with the look of a modern beach house.  Interior design is reflective of the area, incorporating driftwood, volcanic stone, sandy hues, and ripple patterns, all of which symbolize the beach and surrounding area.  Fabrics are a mix of orange, yellow, and turquoise which draw on the sun and ocean.
Anantara Mauritius Resort will feature 164 guest rooms and suites, as well as 7 luxury villas featuring private pools.  Two of the villas will host 2 bedrooms, the remaining 6 villas will be much larger with 4 bedrooms each.  However, the villas will not be available until the early part of 2020.
Gastronomy will include an all-day restaurant for breakfast, lunch and dinner, as well as a seafood restaurant and grill called Sea.Fire.Salt, which will feature beach dining. Private dining also can be had at Anantara Mauritius Resort, and an onsite cafe will promote health and wellness. Guests can expect a dining experience that effectively blends European, Asian and African influences, with most ingredients harvested locally.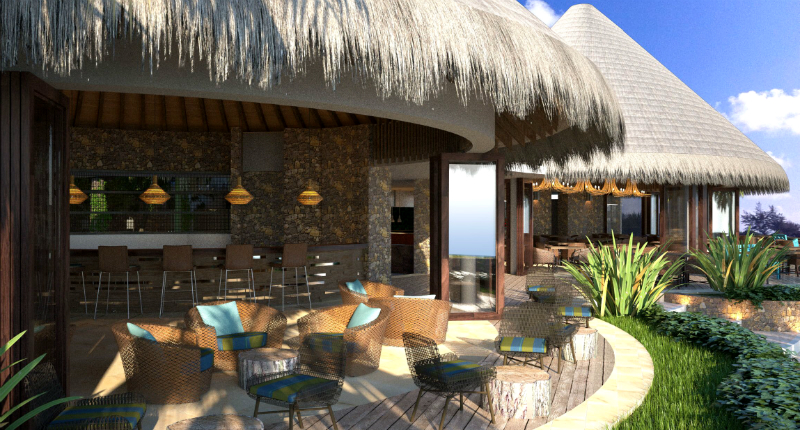 Other amenities will include a kid's club, and 2 bars – one located poolside and one beachfront. Additional facilities incorporate a kid's club, a gym and spa, and a 30-metre pool which will be ozone-based to protect sensitive guests from the harshness of chlorine.
The resort's eco efforts will involve solar technology for water heating in all guest rooms, and the bars will be plastic straw-free. Further green initiatives will incorporate the re-use of water for irrigation and cleaning.
Watersports, such as glass-bottomed kayaking, deep sea fishing, snorkelling and diving are offered nearby.  Additional local excursions include eco tours, botanical gardens, additional watersports, and plenty of golf with over a dozen scenic 18-hole courses. A little further away, in the southern part of Mauritius, guests can explore historical sites and Black River Gorges National Park which offers quad biking, zip lining, and hiking.
Look for bookings to Anantara Mauritius to begin soon.