Best NYC Restaurants near Central Park
Central Park is NYC's enormous backyard, playing host to around 42 million visitors annually. When hunger strikes, you can hit the food carts and snack bars inside the park, as well as the upscale, gorgeously situated Tavern on the Green (pictured above) and Loeb Central Park Boathouse, two of the City's most memorable restaurants. The neighborhoods lining the periphery offer more options for sit-down meals and take out to be relished on a picnic blanket or one of the park's 9,000 benches. Check out our top 10 ideas, none of which will take you far from the green space's bucolic boundaries. (They are ordered from south to north along the park.)
Lunch Box
Locals rely on Lunch Box for satisfying soups and massive sandwiches to take back to their desks. The compact mom-and-pop joint has just a few counter stools, but patrons have the happy option of grabbing them to munch in Central Park, two blocks away. For under $10 you can get a baguette neatly layered with soft roast beef, muenster cheese, roasted peppers, fresh lettuce, and tomato or any number of vegetarian and poultry combinations.
Cafe Fiorello
Facing Lincoln Center, Fiorello has been catering to opera, theater, ballet and philharmonic patrons (and notables like Katie Couric, Paul Shaffer and Elisabeth Moss) since 1974. Thin-crust pizza and an antipasto bar arrayed with appealing vegetable, mushroom and mozzarella medleys have helped maintain its popularity over the decades. So has the professional service and ample sidewalk seating, perfect for watching the world go by. A late-night sandwich menu becomes available after 9pm.
Met Fifth Avenue 
Need a break from taking in 5,000 years of art? The Dining Room at the Met Fifth Avenue, formerly reserved for members, is a gently lit refuge on the fourth floor. The ambitious menu features gruyère soufflé and seafood dishes like swordfish with black chickpeas and lemon jam. The seasonal Cantor Roof Garden Bar is lovely for cocktails and snacks, and the museum has several other spaces where food and beverages are served.
Kefi
This Greek taverna helmed by Michael Psilakis (MP Taverna, FishTag) offers generous, delicious dishes at reasonable prices. Warm, barrel-aged feta—with more depth of flavor than the average feta—is loaded with tomatoes, anchovies, capers and roasted peppers and served with a stack of blistered pita. Other highlights include chicken souvlaki and sheep's milk dumplings with pine nuts and spicy lamb sausage, all of it even better when matched with refreshing Greek wine.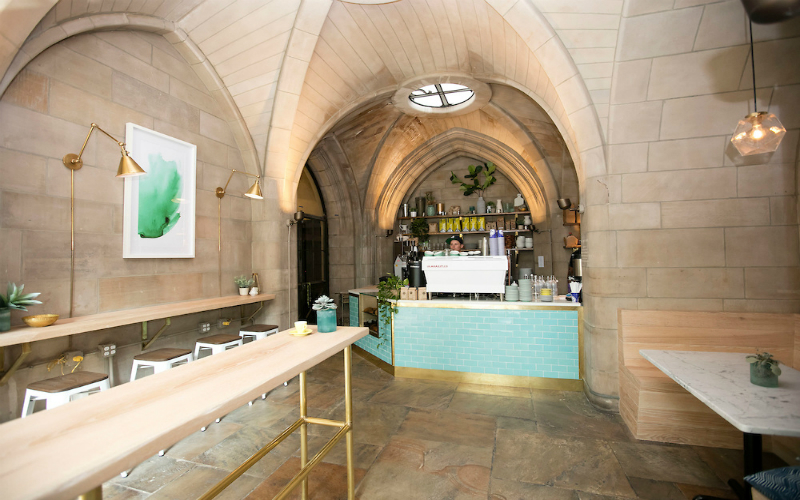 Bluestone Lane
Bluestone Lane's Upper East Side café sits opposite Central Park and attracts runners fresh off the track around the Jacqueline Kennedy Onassis Reservoir, where the former First Lady used to exercise. Seating is inside and outside the tranquil Church of the Heavenly Rest. Coffee and wellness-oriented, cold-pressed juices are served all day, along with a brief seasonal menu, ranging from fresh pastries, granola and eggs to a Moroccan chicken sandwich with yogurt dressing and smashed avocado.
Barney Greengrass
One of the Upper West Side's most famous restaurants, Barney Greengrass has been a fan favorite for generations. Current regulars include Jerry Seinfeld, Zosia Mamet, Danny DeVito—and everyone else who flips out over a great New York bagel with silky Nova Scotia salmon. Other sandwiches here are best piled with corned beef or pastrami. All of it can be wrapped up for a picnic if the old-school deli's tables are occupied.
Table d'Hôte
Just a block from Central Park, this sweet bistro is convenient to the Guggenheim, Cooper Hewitt and the Jewish Museum. It's open for lunch, brunch, and dinner. Chef-owner William Knapp (ex-Gramercy Tavern) is a master of excellence. At lunch, get a cheesy croque monsieur or a crab cake sandwich, generous on the crab. Brunch offers filling eggs Benedict and lighter items like seared salmon. At dinner, the Gallic menu expands to include country-style terrine, foie gras, and roast chicken.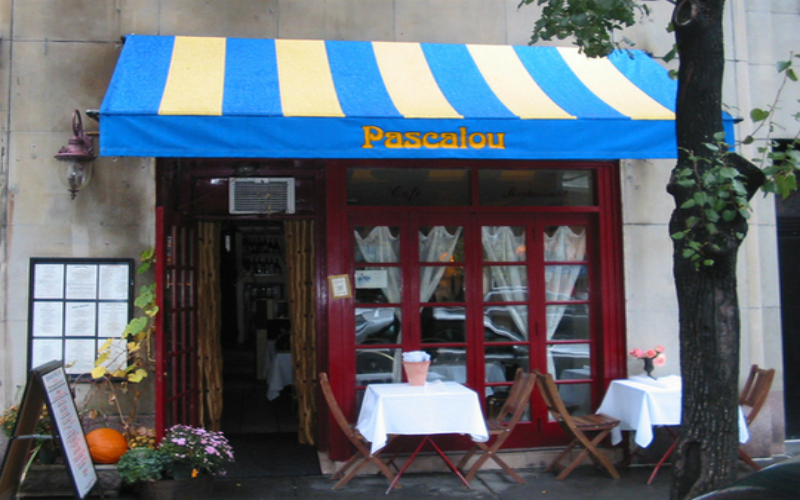 Pascalou
This petite Carnegie Hill bistro feels plucked from southwestern France. Co-owned by a couple, Pascal Bonhomme and Lottie Baglan, the restaurant has a personal touch. Vases of fresh flowers rest on tables clad in white linen. Monsieur Bonhomme's menu honors French classics (onion soup, duck confit), strays to Italy (seafood risotto) and ventures beyond (lovely tagines, Malaysian curry shrimp, and scallops). Early birds can enjoy the $24.95 prix-fixe from 5 to 6:30pm.
Earl's Beer and Cheese
This East Harlem hangout has a downtown vibe, with hunting lodge taxidermy, vintage wallpaper, and communal tables. Squeeze through the young crowd to order from the bartender—craft beers as well as beer-cheese spread and grilled sandwiches bursting with cheddar cheese and pork belly. The Cuban Reuben, with braised pork shoulder, pickled vegetables, fiery jalapeños and swiss cheese on marble rye, is also killer. Available items are written on a chalkboard and prices are wallet-friendly.
Yura on Madison
This posh, high-ceilinged bakery and takeaway shop is close to several Upper East Side private schools (as well as Central Park), so it's popular with children and adults alike. Seating is minimal. For a quick breakfast, get the fresh scones. For a picnic, stock up with a carton of tasty tuna salad, turkey pinwheel sandwiches, chicken fingers with honey mustard, cupcakes and brownies.
By Julie Besonen via The Official NYC Guide – nycgo.com