Canada Transfers – Transfer Service – Cancun, Mexico
We recently spent time in Riviera Maya, Mexico and put ourselves in the capable hands of Canada Transfers for several days, allowing them to show us their services and tours.  We came away so very impressed that we want to share it all with our readers. If your travel plans include Cancun or Riviera Maya, you NEED TO KNOW about Canada Transfers. We assure you, they will make your vacation better on so many levels.
Let's start with their personalized Airport Hotel Transfer Service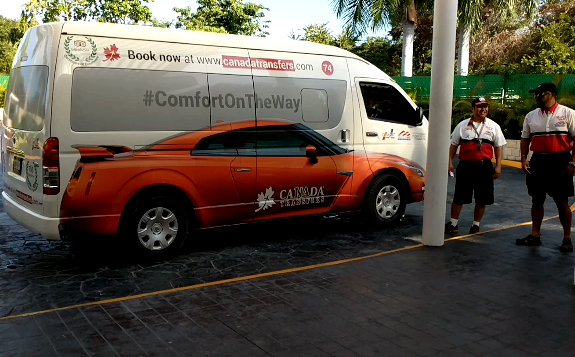 As most travelers know, vacation packages usually include round-trip shuttle service from the airport to the hotel.  Although these shuttles are convenient, they tend to present a lengthy and frustrating situation, particularly in the intense heat and humidity of Cancun/Riviera Maya. In addition to waiting for everyone to make their way out of the airport and onto the bus, more time elapses as the vacation supplier representative takes attendance, runs through a series of instructions… and then waits for stragglers.  Unless you happen to grab a window seat, it's unlikely you'll see much of anything during the drive, and be prepared for several stops as vacationers are dropped off at various resorts along the way. Travelers on the aisle seats can expect to be knocked a few times by purses, totes, and knapsacks as everyone hauls their carry-on luggage on and off the bus.
The drive is then followed by a crowded hotel lobby and a lengthy wait at the check-in desk because large groups are delivered to the same resort at the very same time. A mandatory orientation meeting then follows on the first full day so that vacation suppliers can impart all necessary information for the return shuttle. If you forget about the orientation or skip it because you can't wait to get to the beach, you run the risk of missing your return bus and quite possibly your flight home.  You might think we're exaggerating, but we've actually seen panicked vacationers scrambling to find alternative transportation to the airport as well as an alternative flight.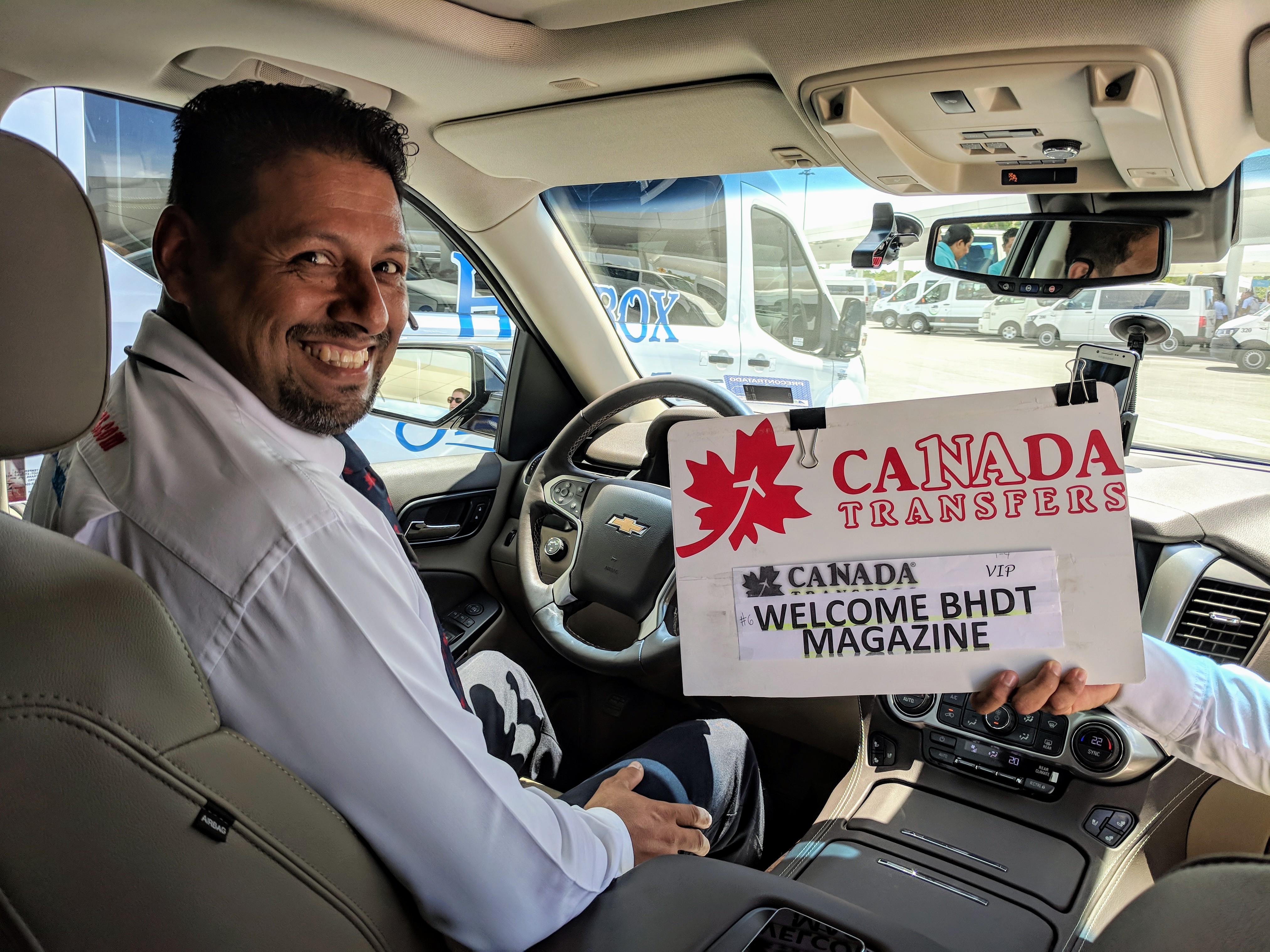 INSTEAD, imagine a much more relaxed scenario of emerging from the airport to a friendly face holding a Canada Transfers sign with your name on it. The professionally-dressed driver hands you a sweet smelling, ice cold towel to combat the intense heat and then takes your luggage for you, letting you know your vacation has begun.
You follow as he leads you to an extremely clean, air-conditioned tour van where everyone in your party gets a comfortable seat and a clear view of the scenery.  Conveniently, a cooler full of ice awaits, loaded with bottled water and anything else you might have requested when you made the reservations.  And given that all Canada Transfers reps, drivers and tour guides speak Spanish and English, there are no language barriers or misunderstandings.
Only you and your traveling companions board the van and immediately leave the airport because the transfer is private. There are no speeches or instructions, and there is no need to wait for anyone else.  As a result, you can count on being delivered to your resort before anyone else on your flight.  Now, you can easily skip the orientation because Canada Transfers will provide you with a pickup time for your return to the airport, allowing you the time necessary to check in for your flight without the hassle of waiting for other people.
PLUS, you have the option of Private Regular Service in a roomy tour van or VIP Service in a luxury Suburban. Prices are based on the number of passengers, the destination, one-way or round trip, and the type of service you choose.  For example, regular service is only $45.69 USD round-trip if you're headed to Cancun, $84.48 USD round-trip if you're headed to Playa del Carmen.  Naturally, the further you go, the more the rate increases. The driver will even stop at a store for you if you aren't going to be longer than a few minutes.  For the rate guide and calculator, click HERE. 
To see what we mean, watch our video at the end of this article.
Now, let's talk about their Tour Services.
Unlike scheduled bus tours that deal with numerous people at a time and dictate when and where the excursion will go, how much time will be spent at the destination, and what the guide will discuss there and along the way, Canada Transfers uniquely allows the traveler to decide.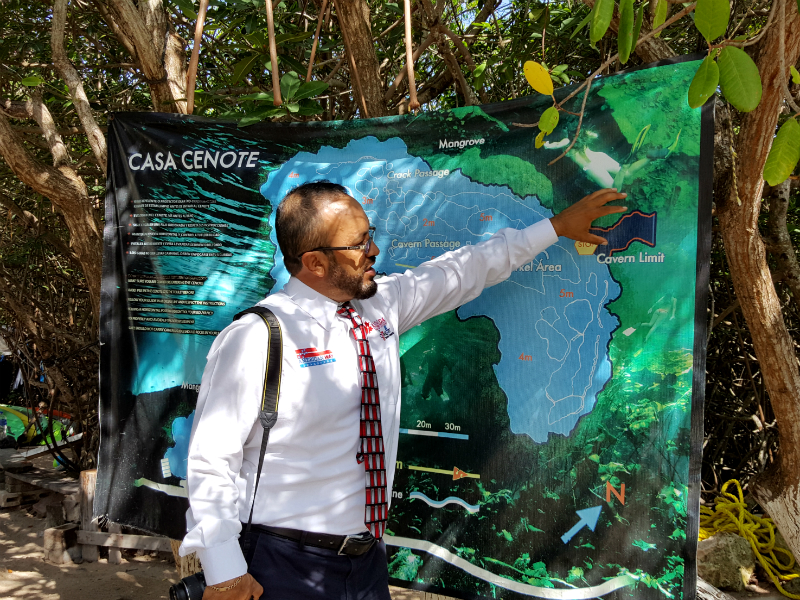 The same personalized service offered with their airport transfers is applied to their tours, including a well-stocked cooler of drinks and refreshing ice cold towels for between destinations.
There is no waiting for latecomers and no worries about spending too much time at a destination and possibly missing the bus.
They offer every famous tourist attraction in the region, beginning with the Mayan Ruins of Tulum, Coba, Chichen Itza, and Ek Balam.  We did all 4 of these private tours and were very impressed with how they were conducted. Not only we were given clean, comfortable transportation and meaningful, informative conversation on the way, but the guide also stood in line to purchase our tickets, walked us into the archeological sites, offered to take group photos for us, and ensured we had everything we needed before he left to wait patiently for us in the parking lot.
Canada Transfers also will arrange bookings for 'private tours' that include swimming with Sea Turtles at Akumal, visiting XCaret, and conducting visits to the island of Cozumel, the historic town of Valladolid, and several different Cenote Swims, as well as everything else listed at this LINK.
And there are 'regular tours' for such exciting adventures as Camel Safaris on the Beach, renting ATVs or Wave Runners, Swimming with Dolphins, and sailing to Isla Mujeres on a catamaran.  Actually, there are so very many exciting tours and activities that it's difficult to name them all.  Its even more difficult to decide which one(s) to choose.  To see what mean, check out the tours listed at this LINK.
For more information, you can visit the Canada Transfers website at www.canadatransfers.com, where you can speak with a representative using their online chat, click a button to have a representative call you, or you can phone them at 1-855-232-9127.  They will answer any questions you might have and will put your mind at ease when it comes to sightseeing, adventure activities, and visiting attractions and points of interest.  Their prices are reasonable, their drivers are very friendly, accommodating, and safe, and their tours are amazing.
No matter what service or tour you choose, Canada Transfers will get you there in style.  If you're like us, you'll feel as though you're traveling with friends. It's no wonder the company catchphrase and hashtag is #ComfortOnTheWay.  Plus, it's a whole lot more!  To see what we mean, watch our video below.