Christmas in New York City
Christmas in New York offers some of the most magical and spectacular holiday events in the world! From movies to television to your friends' Instagram, everyone has seen and dreamt of spending Christmas in New York City. You can Deck the Halls and celebrate the Holiday Season in NYC with these activities and attractions.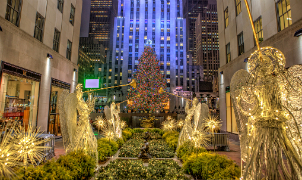 The Rockefeller Center Christmas Tree is a world-wide symbol of the holidays in New York City.
The tree, traditionally a Norway Spruce, is illuminated by 30,000 environmentally friendly LED lights on five miles of wire, and crowned by a Swarovski crystal star.
Tens of thousands of visitors to NYC will venture to see the tree and take pictures and selfies given that it is so iconic.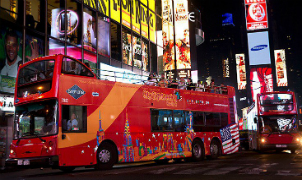 There is nothing like the Big Apple at night. The city positively glitters! In fact, New York is among the brightest cities in the world. Next to Las Vegas, it is the brightest spot in the country according to NASA. And that should be no surprise, since there are over eight million people who live in New York City, and that means there are nearly that many lighted windows each night, to say nothing of the street lamps, skyscrapers, and bridge lights that make the city truly come alive after the sun goes down. It's not called "The City that Never Sleeps" for nothing! In fact, many would say that you can most clearly sense the pulse of the city at night.
On the Holiday Lights Tour, you will be able to see the animated window displays and holiday decorations at New York's most famous department stores, the world famous tree in Rockefeller Center, and other famous and festive locales. New York City is alight year round but never is it more beautiful than it is during the holidays. Take advantage of the Night Tour and the Holiday Lights Tour to truly enjoy it.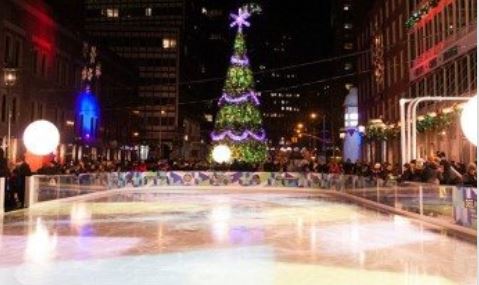 Ice skating in New York City at Central Park, Rockefeller Center and Bryant Park is a classic New York winter experience for both locals and tourists alike! The big question is whether you want to skate during the day or night time?
The Ice Rink at Rockefeller Center, located on 5th Ave between 49th and 50th Streets, has been a quintessential NYC winter experience for generations. Skate under the watchful eye of Prometheus and the unique urban backdrop of Rockefeller Center's sparkling lights. $25+ Adult Admission ($15 Under 11 and Seniors) $12 skate rental For more info, visit their website HERE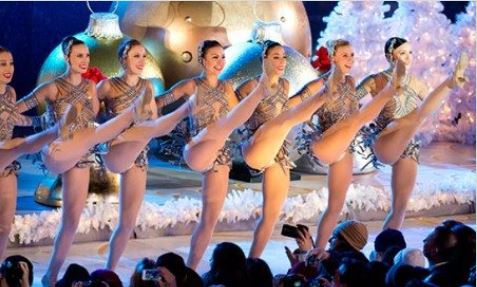 Audiences of all ages will appreciate the singing, dancing, costumes and fabulous effects of the Radio City Christmas Spectacular with Rockettes. Like many holiday events in NYC, this show is grand, well-done, and meant to impress. No one does it better than the Radio City Christmas Spectacular!
The luminescent Radio City Music Hall is decked out for the season and the Rockettes shine like never before in a breathtaking new number that transforms the stage into a glistening winter wonderland!
With up to 4 shows per day on weekends, including Thanksgiving, Christmas and Christmas Eve, the Radio City Christmas Spectacular with Rockettes are a tradition during the NYC Holiday Season for more than 75 years. This unparalleled show stars the world-famous Rockettes and features their signature eye-high kicks, precision choreography and exciting, show-stopping numbers. Share in the joy with Santa, the Nutcracker, and the unforgettable Living Nativity.  November 9, 2018 – January 1, 2019 Daily @ 11am, 2pm, 5pm, 8pm (some variations).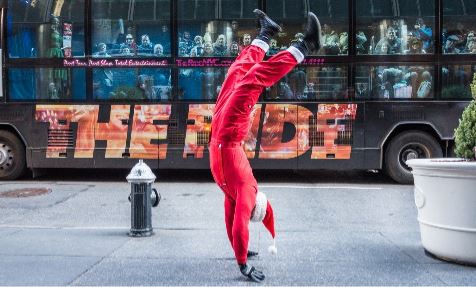 The Ride is a unique interactive, multimedia experiential tour of New York City that offers a new way of seeing and experiencing the sights, presenting the city streets themselves as the stage to a theatrical event. The landmarks and sights of Manhattan become the backdrops and settings, blurring the line between sightseeing and performance. It's part tour, part show, and totally entertaining.
The Ride takes place in a multi-million dollar motor coach customized for this particular experience, with floor to ceiling glass windows and stadium seating all facing the same direction. So no more spending the entire bus tour straining to look over your shoulder to see the buildings passing by, and no need to worry about the taller tourists getting good seats first. All the seating inside The Ride is amazing, and offer unobstructed views of the surrounding city.
The Ride Holiday Edition is back by popular demand.  The Holiday Edition lets guests see NYC during everyone's favorite time of year. Hop aboard the world's only moving theater with surprise performances and winter sparkle.  November 15, 2018 – January 6, 2019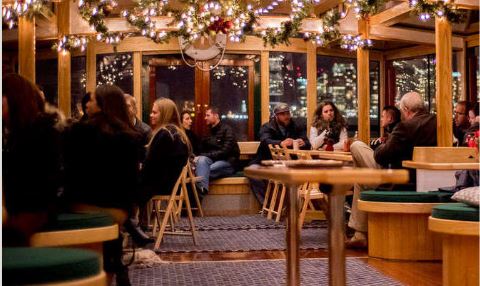 Join the Classic Harbor Line for the Cocoa and Carols Holiday Cruise – a special warm and cozy cruise tailored for friends, family, and all your loved ones during the Holiday Season. Step inside this toasty solarium in full holiday decor for a 1.5-hour cruise to see the New York City lights.
Delicious Hot Cocoa, Cookies, and treats for all our guests are included! Join in on caroling or sit back and enjoy the show & the sites (Musically-talented groups are our special hosts for each of these cruises!)
Sit back and enjoy the gorgeous view of the island from the heated back-deck salon of these 1920s style yachts.
On this 1.5-hour cruise, take in picturesque views from our glassed-in observatory.  Highlights along the way include The Yacht Manhattan or Manhattan II in Full Holiday Decor. Cocoa, Cookies & some sing-along Holiday Carols with a live band. Battery Park, South Street Seaport & the Financial District. Governor's Island, The Statue of Liberty & Ellis Island. Parts of Brooklyn & Queens & the NYC skyline. The Williamsburg, Manhattan & Brooklyn Bridges of the East River. A complimentary beer, wine, spiked hot cocoa or champagne from the bar is offered on all trips. Mixed drinks are available for purchase.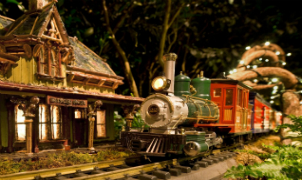 A dazzling and detailed replica of Manhattan can be found at the New York Botanical Garden Holiday Train Show, made entirely from natural plants, and 14 electric trains running in loops around the city. The exhibit is great for both kids and adults and makes an especially beautiful date night with cocktails on "Bar Car Nights" in December. Located in the Bronx, accessible by Subway and Metro North.
Just like NYC, twinkling lights go on at night with both city and holiday lights. Over 150 NYC landmarks are created entirely from botanical "ingredients" such as orange slices, cinnamon sticks, poppy pods, pine cones, berries, mushrooms, nuts, bark, leaves twigs and dozens of other plant parts. Humming along between familiar sites such as the Statue of Liberty and Rockefeller Center, large-scale model trains cover a quarter-mile of track to bring life to this traditional holiday landscape. The Holiday Train Show is definitely one of those "not-to-be-missed" and "only in NYC" unique and memory-creating things to do for couples, families, and children.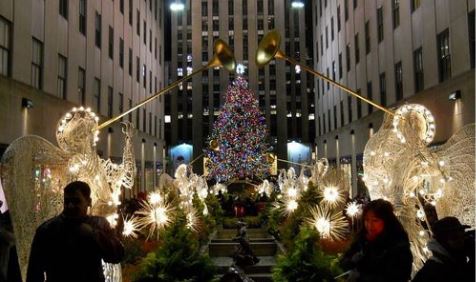 A New York City Holiday Lights Tour is a great way to see the magical holiday wonderland all over NYC, which is a "don't miss!" Though I usually recommend you see as much of NYC as you can on foot, it's not always possible. Seeing all of NYC's attractions, trees and lights across four square miles in one night and on foot can take a while, not to mention the holiday crowds and winter weather.
To the Rescue: a warm, guided, personal holiday lights tour!  Get in the festive spirit by taking an evening tour of Manhattan's glittering holiday-season lights including Central Park's Holiday Markets, The tree at Lincoln Center, The World's Largest Snowflake, all the store displays on Madison, Park and Fifth Avenues and lots more!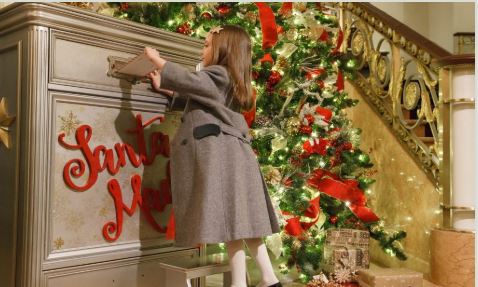 NYC Hotels Best Holiday Decorations will give you a lifetime of album and post-worthy photo ops, while truly making your holiday season in NYC special. Below is a list of the best hotels in NYC at Christmas Time.
Ready to have your own private winter wonderland during your NYC stay? Holiday Trees, Twinkling Lights, Santa's Mailbox, Menorahs and more.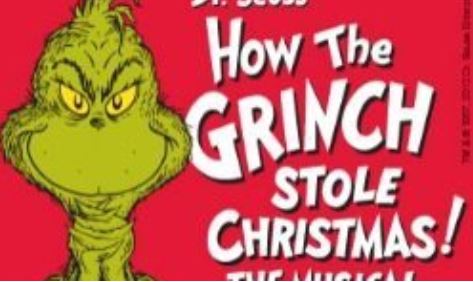 Dr. Seuss Comes to Life in NYC – December 13-30, 2018 at the Theater at MSG
Discover the joy of Dr. Seuss' classic holiday tale as it comes to life on stage. Featuring the hit songs "You're A Mean One, Mr. Grinch" and "Welcome Christmas," The Grinch discovers there's more to Christmas than he bargained for in this heart-warming holiday classic. Discover the magic of Dr. Seuss' classic holiday tale as it comes to life on stage in this beloved family musical.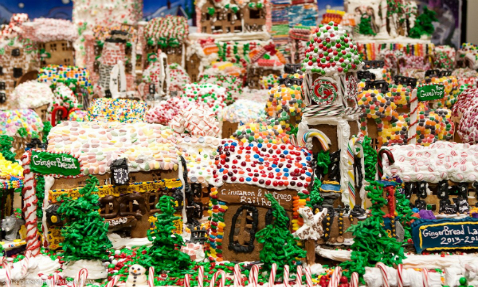 From Nov 14, 2018— Jan 13, 2019, The New York Hall of Science will host the World's Largest Gingerbread Village, as determined by Guinness World Records for the past five years. In its sixth year in contention for the title, the 2018 event is sure to be as delicious and amazing as its predecessors.
Creator and chef Jon Lovitch drafts, designs, bakes and constructs the homemade gingerbread houses, which are made of edible gingerbread, royal icing, and candy. This confectionary wonderland is a sight for the whole family to enjoy.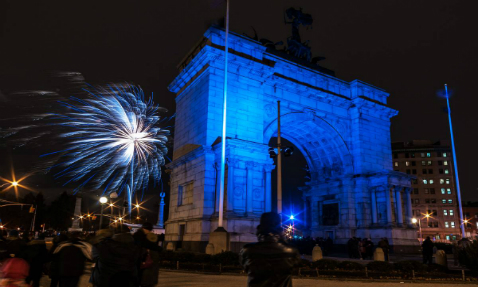 Check out Brooklyn's dazzling New Year Eve's display with the Grand Army Plaza fireworks, just off Prospect Park. This free event is fun for all ages.
The fireworks begin at midnight, but get there early if you come by car; parking spots can be scarce.
The best places for viewing are along Prospect Park's West Drive and between Grand Army Plaza and 9th Street.
Courtesy of NYC Insider Guide and NYCGO