Experiencing a Crocodile Safari – Costa Rica
Costa Rica has a vast array of wildlife and spotting different species of birds or catching sight of a slow-moving sloth is something that people often look out for when hiking through Costa Rica's jungles.
Crocodiles also feature on the country's long list of wildlife and tourists can get an up-close experience with these reptiles via a crocodile safari. Nowadays, there are many crocodile tours in Costa Rica, but the one we're discussing here is operated by Costa Rica Waterfall Tours.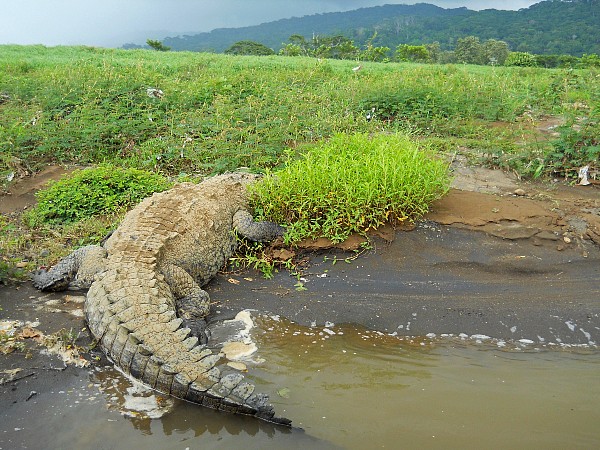 This Crocodile Safari takes visitors on a cruise along the Tarcoles River, which has the largest population of crocodiles—more than 2,000—in all of Central America. Here, you are guaranteed numerous sightings!
The Tarcoles River also boasts 50 species of birds, ranging from native to migratory. The tour guide will point out some of the different species during the river cruise.
The boat ride begins with a tour of the large mangrove ecosystem of the Tarcoles River. Within the mangroves, you will be able to see a variety of plant life, including beautiful wild orchids. Your guide will also talk about the history and importance of this massive river.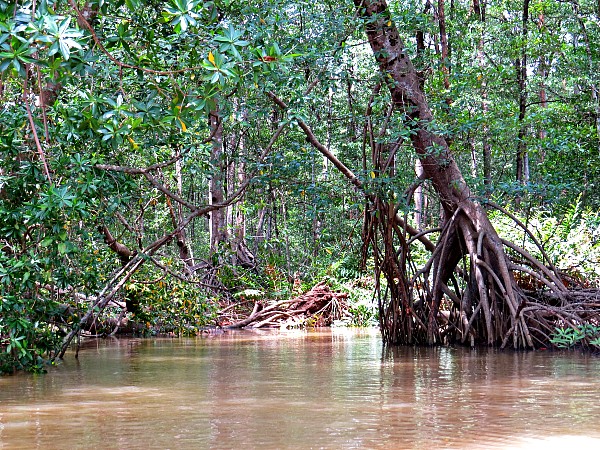 Once the tour leaves the shelter of the mangroves, the boat will enter an open section of the river where many American crocodiles will be sunbathing on the shores and swimming alongside the boat.
A few times throughout the tour, the brave guide will step off the boat to feed the crocodiles. This is an incredibly impressive demonstration, as the guide holds a piece of chicken and lets one of these beasts snatch it right from his hand! 
The crocodiles can reach up to 18 feet in length.  Full-grown, they weigh in at 800 pounds of muscle and are full of predatory instinct, but somehow the tour guide can confidently interact with these prehistoric-looking creatures. Be sure to have your cameras ready to capture some amazing action shots.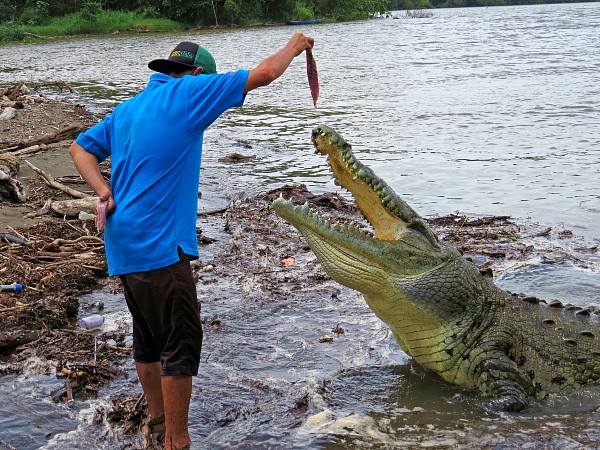 There are several two-hour tour slots available daily to choose from. Tour groups are limited to 15 people, especially as the boats are small and intimate, which makes it feel less touristy compared to some of the other tours that operate in the area.
All ages will enjoy the tour, just be sure to keep all hands in the boat throughout the duration of the cruise!
An unfortunate reality that may be brought to light during the tour is the damage to the ecosystem. Sadly, the Tarcoles River has become significantly polluted, and the American crocodile is classified as a threatened or vulnerable creature. So ensure that you do not leave garbage behind and take only your photos and memories!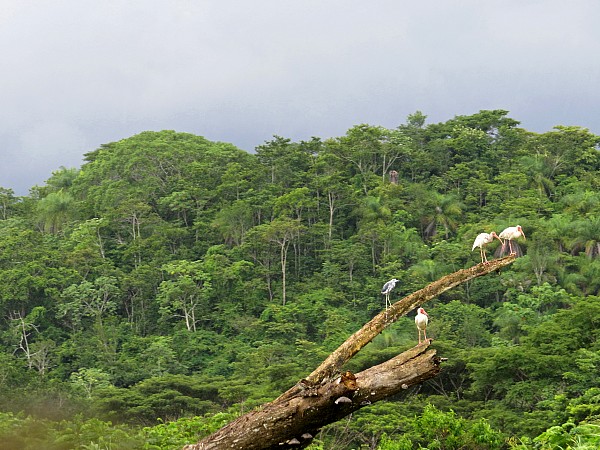 The Crocodile Safari is priced per person and can be booked online at https://costaricawaterfalltours.com/tour/crocodile-safari/.
After your tour, there is a restaurant in the immediate area where you can eat your fill of chicken.
Lead Photo via Pexels
All other photos by Mackenzie Boers