Favourite 5 Canadian Road Trips
Road trips are as much a part of summer as a backyard BBQ. They are a great way to bond with family or friends while taking a vacation that allows everyone to see a number of sights and explore a multitude of destinations.
Unfortunately, it's the type of trip that can be stressful if you're not fully prepared, which is why we developed an article to help with preparations, called Planning a Road Trip. Click HERE to read.
And now, to assist you further, we have created a list of our Favourite 5 Canadian Road Trips. Perhaps you'll find one here that you'd like to undertake this summer with your family.
The Province of Ontario
Often times, when suggesting or speaking of a road trip, certain routes or trails are mentioned. For example, 'Route 66' and 'Highway 1' in the US are both excellent examples of road trips that have become famous drives. 'The Cabot Trail' in Canada is another good example of a road trip that has a specific route (and it is included in our list).
However, to begin our Favourite 5, we're suggesting an entire province – Ontario, a vast area full of beautiful lakes and escarpments, forests and farmland, historical sights and bustling cities, as well as attractions both natural and man-made. There is no particular path or direction that needs to be adhered to, it's just a matter of personal preference based on which sights and cities are most important to you. But we do have some suggestions for must-sees along the way.
Consider the Nation's Capital of Ottawa, to visit the Parliament Buildings, the Rideau Canal, Nepean Point or numerous museums. Or, consider Ontario's capital city of Toronto, where travelers can admire the skyline and waterfront, visit the CN Tower or one of many museums including the ROM, the AGO, the Science Centre, or the Bata Shoe Museum. Spend an afternoon at Ripley's Aquarium or explore the gothic castle of Casa Loma, built in 1911.
Head to Southern Ontario to see Niagara Falls, one of the natural wonders of the world, and appreciate the stunning views of the Canadian and American Falls while discovering a number of natural and man-made attractions in the region.  These include but are not limited to the Laura Secord Homestead, Bird Kingdom, The Butterfly Conservatory, Clifton Hill, several wax museums, two casinos, The Whirlpool Aero Car, Botanical Gardens, or the Skylon Tower. 
Note the considerable beauty of Ontario's northland with a drive to Sudbury to visit the Big Nickel, the largest coin in the world, cruise the waters of Penetanguishene or Parry Sound, or head to Gananoque and embark on a cruise of the Thousand Islands.  Or there is the option of visiting one or more of Ontario's National Parks, including Algonquin Park, Killarney Provincial Park, as well as the Bruce Peninsula National Park. Boaters can explore Georgian Bay Islands National Park or plan an adventure that includes the pristine forestland and abundant lakes and rivers in Quetico Provincial Park.
It's impossible to offer a pre-planned route for these suggestions given that some readers may undertake just one trip while others might try to combine them, thus creating the need for alternate and extended routes. The bottom line is, no matter where you choose to go, Ontario offers a wide variety of road trips that can be undertaken in a day, a weekend, or even a full week or two depending on how much you wish to travel and how many attractions you wish to see.
The Cabot Trail, Nova Scotia
The Cabot Trail hugs the coastline of Nova Scotia's Cape Breton Island. The 298-kilometer route twists and winds it's way through beautiful scenery, resulting in a fabulous road trip that's rife with lookout points and never-ending photography opportunities. Whether it's ocean panoramas, mountain scenes, tiny fishing villages, steep cliffs, or indigenous wildlife that comes into view, travelers should ensure their camera is always at the ready.
Camping, golf, and culinary experiences are rich in this region, with the chance to learn more about local culture and heritage via a trip to Membertou Heritage Park or the Alexander Graham Bell National Historic Site.  Adventurers can also explore the Cape Breton Centre for Heritage & Science and the Petrie Military Museum, or the Fortress of Louisbourg National Historic Site.  For a completely natural experience, venture to Ingonish to indulge in some beach time, or head to Cape Breton Highlands National Park where moose roam the same walking trails as hikers do.
The Gaspé Peninsula, Québec
The Gaspé (meaning 'end') is a piece of land along the south shore of the Saint Lawrence River running east of the Matapédia Valley in Quebec.
The tourist route of this area, called Chemin du Roy, is conveniently laid out with signposts as it hugs the north shore of the St. Lawrence and travels through heritage sites in such villages as Deschambault, Neuville, and Québec City.  These old towns are perfect for spending a few hours exploring, as is the Citadelle of Québec, a 300-year-old fortress that features a daily changing of the guard.
Excursions and tourist attractions in the area include Forillon National Park for a seaside experience that includes seals, seabirds and the opportunity to snorkel and explore underwater plant life. There is also the bird sanctuary of Bonaventure Island; the Village of Matapédia for it's covered bridges, an abundance of wildlife, numerous lookouts, and photography opportunities; and La Martre Lighthouse and Museum.  Whale watching tours are also available via this road trip, departing from Gaspé and Percé
Vancouver Island
The experience of a lifetime awaits on Vancouver Island with a series of day-long road trips that offer a host of different options and views. With plenty of unspoiled lakes and rivers, there's much to do in the way of camping, hiking, kayaking, such as the Johnstone Strait & Broughton Archipelago Expedition. Fishing, in particular, salmon fishing is also a great reason to take a road trip and head to Vancouver's many fishing hot spots. Whale watching tours are available from several tour companies along the coastline, with Orca tours being among the most prevalent. As an added bonus, adventurers can enjoy the abundance of amusing river otters that tend to congregate around the rocky shores.
Continuing on the road, travelers can take in the relaxing atmosphere of the drive through Vancouver Island's rainforest region before coming upon the surf paradise of Tofino, where there is also hiking opportunities and gray whale watching amidst quaint resorts offering waterfront views and memorable dining.
Or, drive toward the city to enjoy Stanley Park, the Museum of Vancouver, and the Granville Market along with first-class hotels, entertainment, and a variety of restaurants. 
Road trips on Vancouver Island, much like our #1 suggestion of Ontario, do not follow a particular route or trail, but it's possible to create one, or even many, depending on what travelers wish to see and do.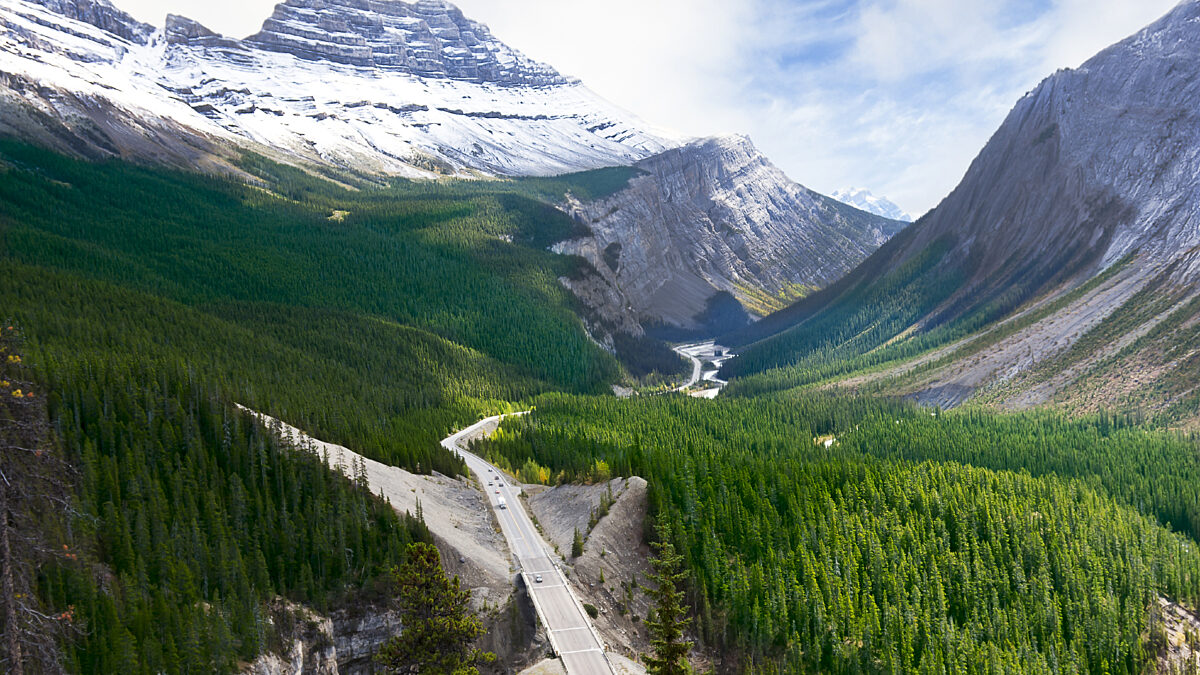 The Icefields Parkway, Alberta
This particular road trip is relatively short at approximately 4 hours along the 230-kilometer route that runs between Banff and Jasper. To drive it and do nothing more, surely it wouldn't take longer than half a day. However, this trip is about much more than just the drive through breathtaking wilderness of mountains, forests, waterfalls, and wildlife.
The Columbia Icefields encompass both Banff National Park and Jasper National Park, an area that offers much in the way of camping, fishing, and skiing, as well as guided and self-guided trail hikes, kayaking, whitewater rafting, chairlift sightseeing, and wildlife safaris that can include grizzly bears, longhorn sheep, moose, and much more.  Not to mention that time spent in the charming town of Banff encompasses world-class shopping, dining and a wide range of accommodations.  To that end, we have some suggestions.  Click HERE to read our Favourite 5 Hotels in Banff. 
Of course, when travelers reach the Athabasca Glacier it's highly recommended that adventurers embark on a tour for views of an entirely different kind. Click HERE to see what we mean.