Favourite 5 Luxury Hotels in Las Vegas
Las Vegas is one of those tourist destinations where you can play up your vacation or play it down, depending on your budget and personal taste.  Travelers can eat affordably at buffets and at chain eateries or splurge on the city's most celebrated gourmet restaurants.  They can opt for an endless number of free activities as their vacation entertainment, or drop a bundle on tickets to live shows with top-notch performers.  And when it comes to accommodations, they can book with an older and classic Vegas hotel, most of which are now moderately and competitively priced, or choose from one of many luxury destinations where the cream of the crop decor, amenities, and service are designed to treat guests like royalty for the duration of their stay.
Over the past two decades, Las Vegas hoteliers have moved away from the themed hotels of the past, which were designed to entice 'family vacations' (for example, the Excalibur, the Luxor, Treasure Island) and have instead opted for palatial properties with all the trimmings, including oversized suites with upscale furnishings and linens, first class restaurants, multiple entertainment venues, on-site golf courses, and posh shopping facilities right on the premises. In many cases, these hotels are so well appointed that they are the world unto themselves, thus eliminating the need to leave the premises. Despite the climate of the economy, the popularity of these types of properties has risen exponentially. As such, several classic hotels have been demolished and the vacant spaces have paved the way for more extravagant hotels to build along Las Vegas Boulevard, where they now shine like diamonds.
Yes, when it comes to luxury, Sin City knows how to do it well.  With that in mind, here is a list of our Favourite 5 Luxury Hotels in Las Vegas.
The Bellagio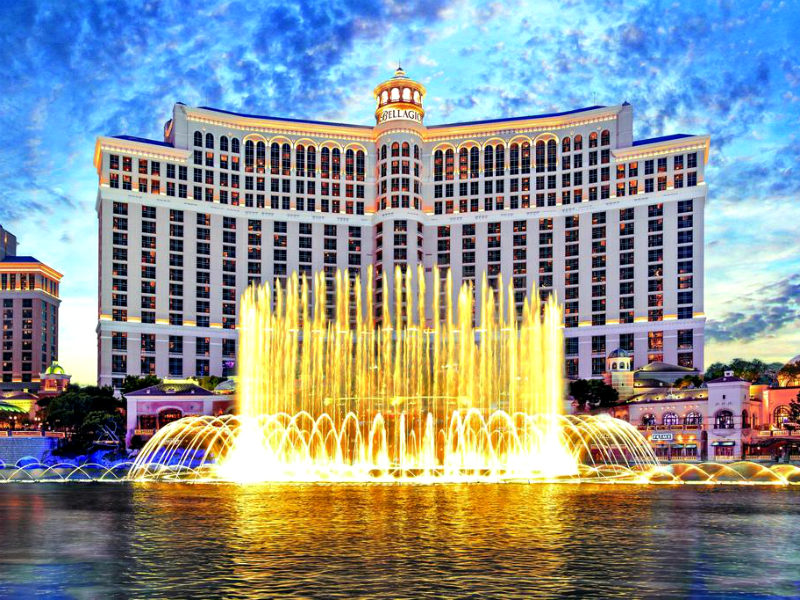 Sitting at the famous 'Four Corners' of Vegas, where The Strip meets Flamingo Road, The Bellagio is immediately recognizable given the 8.5-acre lagoon that fronts the property and spouts the famous dancing fountains. This property is the best of both worlds considering it is almost a theme hotel with its obvious Italian inspiration; however, it is actually considered a luxury destination.  
Set on 67 acres, the hotel features 3,933 upscale rooms and suites with various sizes and appointments, 5 gorgeous pools, 14 on-site restaurants, a massive casino that hosts big game tournaments, and an indoor conservatory and botanical garden. Unlike several Vegas hotels that draw a young party crowd, the Bellagio sees an older and more established clientele that keeps the pool areas quiet and relaxing.
The Palazzo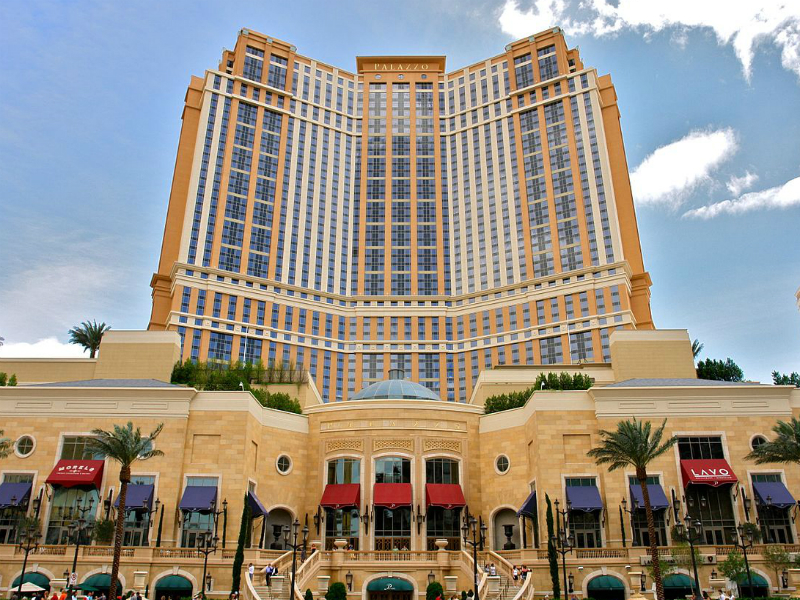 As one of the tallest hotel properties on The Strip, The Palazzo is actually more opulent than its sister property, The Venetian, which sits next door and is connected by the Grand Canal Shoppes retail complex featuring boutiques by Michael Kors, Fendi, and Christian Louboutin.  As a testament to the richness of Palazzo, there is even a Lamborghini showroom on site.
Unlike most destinations on The Strip, this is an all-suite hotel boasting guestrooms bigger than most destinations in Vegas, with a bedroom and a separate sunken living room. Among the hotel's many restaurants is the outstanding Emeril's Table 10 and Morel's French Steakhouse.
The Wynn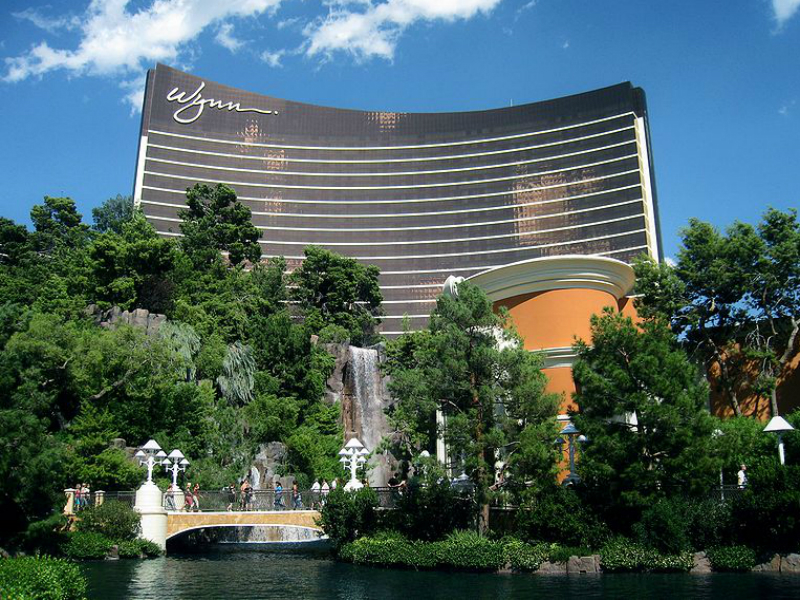 Las Vegas developer Steve Wynn opened the 49-story hotel in 2005 as one of the first properties to feature the kind of luxury that themed and classic Vegas hotels lack.  This 2,716-room destination offers rooms sized 640 sq ft featuring a signature king-size Wynn Dream Bed and a TV in the bathroom. There is also a series of suite options with different amenities and sizes as well as to plush villas sized at 7000 sq ft.  
An 18-hole golf course graces the back of Wynn's massive acreage and connects with the sister property of Encore. Adding to the luxury of this hotel is an on-site Ferrari/Maserati dealership, several restaurants notable for their celebrity chefs, a celebrated nightclub, plus a gaming floor encompassing 111,000 square feet.  
Encore at The Wynn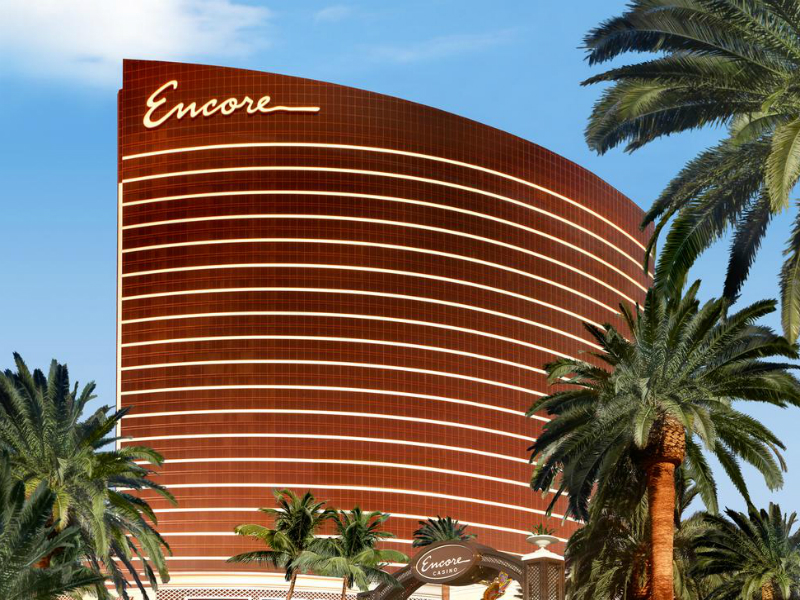 Following on the heels and success of the Wynn, Vegas developer Steve Wynn opened the sister property, aptly called Encore, in December of 2008.  This 2,034-room hotel has taken everything wonderful about the Wynn and has added to it with larger rooms at 700+sq ft, floor-to-ceiling windows, and even drape control via a convenient bedside remote. A 3-tiered adults-only European pool (topless) features 29 rentable cabanas and shipped-in sand.  Also available for fun is XS, the resort's upscale nightclub with a capacity of 3000. Onsite restaurants include Sinatra, a Frank Sinatra themed steakhouse that seats 152 people; Wazuzu, a modern-Asian bistro that houses a 27 ft crystal dragon; Andrea's, an Asian-inspired cuisine by Chef Joseph Elevado; and a casual restaurant with a high-end name of Society Cafe.
Venetian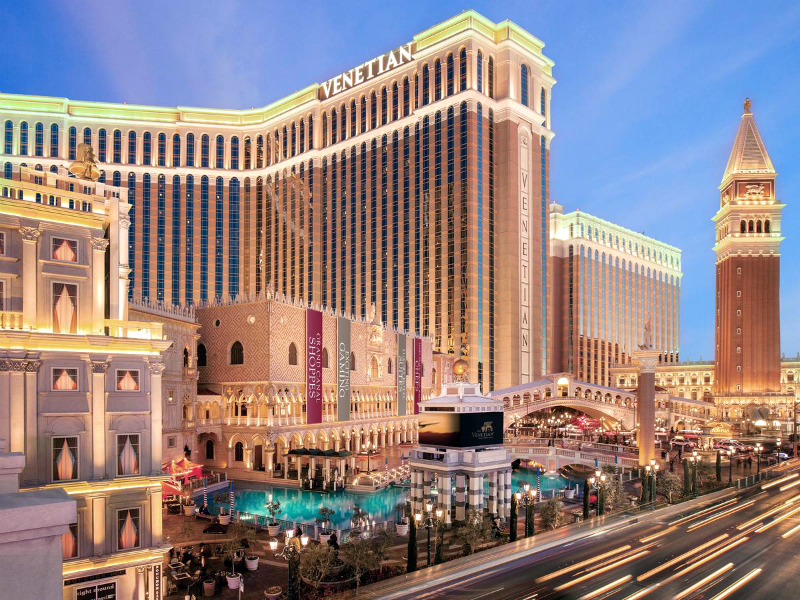 This Italy-inspired hotel is well-known for its indoor gondola rides that take visitors through the retail and restaurant section of the resort. The Venetian features standard rooms sized at 650 square feet, which are among the largest on the Strip, and boasts floor-to-ceiling windows, a king-size pillow-top bed, and a sunken living room with traditional furniture in brown and cream hues. Accommodations range in price from $169 to $10,000 per night.
The pool here is located on the 10th floor and it is positively elegant with plenty of greenery and sculpted trees. Venetian shares its Canyon Ranch Spa with its sister property of Palazzo next door. A 120,000sq ft gaming floor can be found here along with notable restaurant Canaletto.
Enjoy our Video Version of Our Favourite 5 Luxury Las Vegas Hotels here: