Favourite 5 Luxury Resorts in Myrtle Beach
When it comes to Family Vacation Destinations, it's no surprise to most people that Myrtle Beach ranks high on the list. With 60 miles of Grand Strand beachfront, this ever-expanding region presents an abundance of dining and nightlife options. There are more than 100 golf courses in the area, a slew of mini-golf, and a ton of amazing shopping opportunities. Shopping can be found in local malls and especially in a growing number of specialty boutiques contained in complexes such as The Barefoot Landing and Broadway at the Beach, as well as along the downtown boardwalk.  The long-standing Gay Dolphin is just such a place.
This beachfront hotspot also hosts a variety of adventure sports, including deep sea fishing, parasailing, jet skiing, flyboarding, and banana boat rides. There are amusement parks and rides, helicopter tours, Go Karting, and Dune Buggy experiences.  Plus there are marshes, piers, and State Parks to be explored. In short, Myrtle Beach has it ALL, with a vast number of hotels, motels, resorts, campgrounds, and condos to choose from when it comes to accommodations.
For a period during the 70s and 80s, campgrounds and traditional hotel chains ruled the roost.  But by the 90s, rental condos were the next big thing, featuring all the comforts and conveniences of home in the form of extra bedrooms, an extra bathroom or 2, TVs in the bedrooms as well as in the living area, fully equipped kitchens, and handy laundry facilities. Since this type of property allowed large families and groups to stay together while retaining a level of privacy with separate bedrooms and living areas, they quickly grew in popularity. Soon, timeshare condos were lining the beach and the traditional hotels were revamping and renovating so they too could offer spacious suites along with a variety of condo-style configurations to suit a variety of needs.
Recognizing the demand for these properties, Myrtle Beach hoteliers expanded yet again, turning properties into full-on resorts with a wide variety of on-site amenities, as well as 'luxury' accommodations for travelers seeking an upscale experience.
Though there are several properties in Myrtle Beach that offer luxury vacations, we have cultivated our Favourite 5.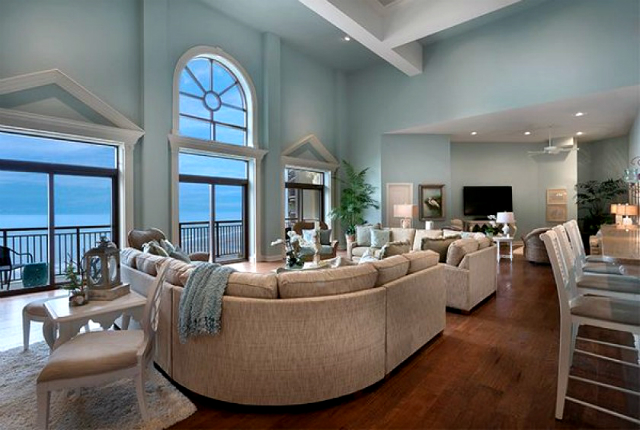 North Beach Plantation (Pictured Above in the Lead Photo) – Located on 7.5 acres between the Atlantic Ocean and Whitepoint Swash, North Beach Plantation is an impressive resort with the kind of exterior architecture and interior luxury that looks as though it would be right at home in Dubai.
Offering a variety of accommodations, including cottages or units in the towers and bridge, North Beach offers 1,2,3,4 and 5-bedroom condos, 5 being a rarity in Myrtle Beach. And the crowning glory of the property is the 7-bedroom, 7-bathroom condo found on the bridge of the resort (the area linking the 2 towers together) which sleeps up to 20 people.
No matter which size unit travelers choose, they are assured of gorgeous furnishings and decor, upscale amenities, and phenomenal beachfront views.  The resort offers a 2.5-acre waterscape of pools, spas, a lazy river, a swim-up pool bar and private cabanas. Guests can dine at 21 Main, the resort's premier steakhouse and sushi bar, or kick back and relax at Cinzia Spa.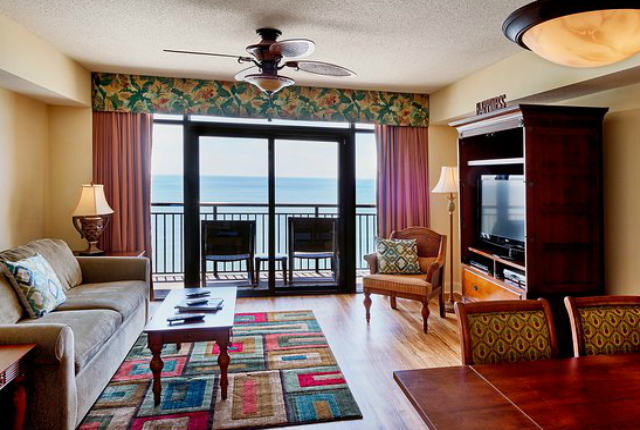 Island Vista Resort – This an absolutely gorgeous property, inside and out. The Island Vista is the only oceanfront hotel property for almost a mile in either direction, so it gives guests the feeling of being on a private, laid-back island.  This all-suite resort provides guest rooms that sleep 2 – 4 people, as well as 1, 2, 3, and 4-bedroom suites featuring beautiful British West Indies decor and plenty of space.
The bigger the suite the more amenities guests will find, such as 8-10-person dining rooms and Jacuzzi tubs. Terraces feature beautiful oceanfront views. Resort amenities include three indoor and outdoor pools, indoor & outdoor hot tubs, a children's area styled in an ancient ruins theme which includes a lazy river ride, tunnel, waterfall, and kids splash area.  Also in the poolscape is a tiki bar & café, poolside wireless internet, a large grassy tanning lawn, an oceanfront veranda, tiki deck, an oceanfront massage cabana and towel service. Dining facilities are also available onsite for breakfast, lunch, and dinner.  What more could you possibly ask for?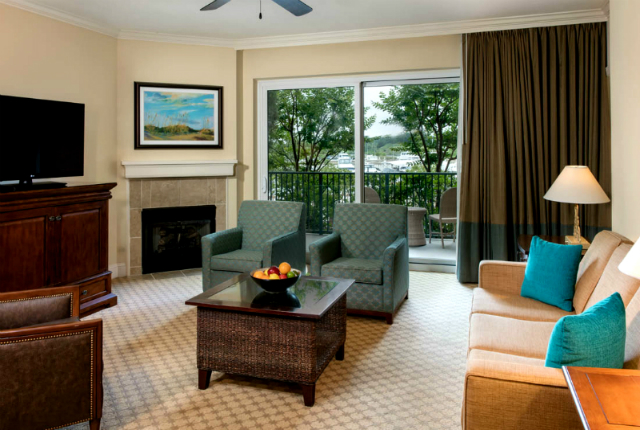 Marina at Grand Dunes –  This Mediterranean-inspired 2200-acre resort offers outstanding amenities and peaceful seclusion while overlooking the Intracoastal Waterway. Though the resort is not an oceanfront property, the beach is not far away with a shuttle that takes guests to a private location complete with chairs, umbrellas, towels, and lifeguards.
In the meantime, guests can enjoy the quiet and restful surroundings of the Marina and the Grand Dunes Golf Course.  A tennis court is on site, as well as a lobby bar. Oversized guest rooms, as well as 1-4 bedroom condo layouts, are available with modern decor, upscale linens and bath products, lighted makeup mirrors, and bathrobes. Terraces overlook the water. WaterScapes restaurant is onsite for French and local cuisine, and Ruth's Chris Steakhouse is only a short walk away.  For watersports, the marina is at the doorstep, with river cruises, pontoon boat rides, and jet ski experiences and tours with Shawn's Backwater Adventure.
Oceans One Resort – Inspired by the ocean for its interior and exterior design, this beauty of a property is located at the foot of the new boardwalk and a block from the 2nd Avenue Fishing Pier. Outside, the resort boasts a large, cascading wave down the side of its all-white structure.  Inside, 1- 3 bedroom suites are spacious and modern, offering king beds in the master suite, double beds in additional bedrooms, plus a sofa bed in the living area. The clean white on white decor in and of itself speaks to luxury.
Upscale amenities and multiple closets are a nice touch, as are luxurious jacuzzi jets in the bathtub and an additional oceanfront balcony available in 3-bedroom suites. Floor-to-ceiling windows in every unit of this resort provide spectacular views of the beach and the Atlantic Ocean.  Pool features include a splash zone for the kids as well as a lazy river ride, indoor and outdoor whirlpools, and waterfalls that empty into indoor and outdoor pools.
Avista Resort – Perhaps the Avista Resort is not quite on the same level of luxury as our first four favorites mentioned here, but it is definitely an upscale property. Featuring 1,2, and 3 bedroom units in a variety of configurations, Avista's accommodations are spacious and clean with a contemporary design in white, cream and pastel hues of ocean-inspired greens and blues.
Fully appointed kitchens, laundry facilities, and comfortable living areas are complemented with small oceanfront terraces overlooking the beach.  On-site resort features include a restaurant, a lounge and a poolside bar, a fitness center, and banquet facilities. As for waterfront fun, there are both indoor and outdoor pools, hot tubs, and lazy river rides.