Favourite 5 – Unique Dining Experiences in New York City
New York City, as one would expect, has more than its fair share of fine dining. Restaurants like Gramercy Tavern, Le Bernardin, Gotham Bar & Grill, and Eleven Madison Park are quite possibly the best examples of this.  There is also a multitude of infamous, landmark restaurants.  The Russian Tea Room, Loeb Boathouse in Central Park, Carnegie Deli, La Grenouille, Katz's Deli, Gramercy Tavern(made famous by the sitcom Seinfeld) and so many more would all fall into this category.
But what about unique dining experiences, the one-of-a-kind places that are meant to entertain, evoke discussion, and perhaps even shock?  Well, New York City has those as well and here are our Favourite 5.
Let's start with one of the stranger entries in this list – the Jekyll and Hyde Club, located at 216 West 44th Street in NYC. Are you a fan of horror and feeling slightly uncomfortable? Then perhaps this place is for you.  It's like Disney's Haunted Mansion with a serving staff.
This restaurant comes complete with ghost-like faces in the mirrors, moving walls and statues, and photographs that talk. The servers immerse themselves in character to provide guests with the full experience, even roaming the space for a little table to table interaction.  The overall theatrical presentation makes it the perfect spot to celebrate a special occasion.

Similar to Toronto's O'Noir, Opaque offers up the concept of dining in the dark in order to enhance the experience.
A well-lit reception area allows diners to inspect the restaurant's prix fixe menu before they are guided into the darkness to be seated.
Visually impaired and legally blind serving staff tend to guests with gourmet meals.
If you don't mind jumping with fright every now and then as your waiter drops from the ceiling or appears out of nowhere, then NINJA New York is a must-see and do for you! Designed to look like an ancient dojo, the serving staff wholly embraces their inner Ninja while wielding swords and hopping about with precision moves.
Place your order but don't blink afterward because your server will vanish just as quickly and quietly as he appeared.  To get a better feel for NINJA, click on our full review HERE.
Looking for a Broadway-like experience while you dine? Then this is IT given the considering this restaurant's singing wait staff.
Located at 1650 Broadway in NYC, Ellen's Stardust Diner delivers a believable 50's theme with plenty of memorabilia. This is an old-fashioned diner that serves up everything from meatloaf to milkshakes and does so while singing a tune.   If you like performance with your pie, look no further.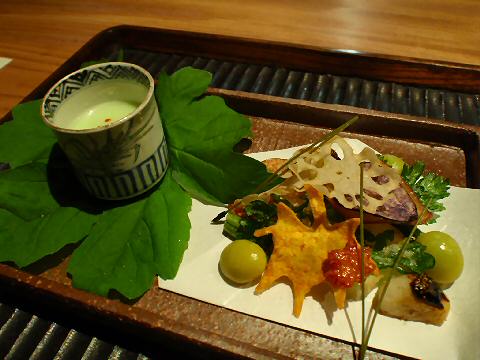 If spirituality is lacking in your life, you'll find it here at Kajitsu, where monks have insisted on a policy that does not harm other creatures.  As such, their meals are a culinary experience that includes dishes from rice, vegetables, and flowers – yes, flowers!
Located at 25 Hudson Street in Manhattan, this restaurant's name means 'Day of Celebration" and seriously indulges in Shojin cuisine derived by ancient Buddhist monks.