Favourite 5 Scenic Golf Courses in South Carolina
Beyond its beautiful beaches and 47 incredible state parks, South Carolina has long garnered accolades for its world-class golf. Few golf enthusiasts are unfamiliar with Myrtle Beach, Kiawah Island and Hilton Head Island, which are among South Carolina's most famous golf destinations, but an increasing number are discovering that unforgettable golf experiences abound throughout the Palmetto State.
Take Cheraw State Park Golf Course for example. Just picture yourself amidst a pristine park setting where there are no adjacent fairways, houses, roads or penalizing out-of-bounds stakes – only picturesque views of forests, lakes and wildlife. The course is a Tom Jackson design, economical to play, well-conditioned and golfer-friendly.
Located in the dense pineland of our Sandhills region, the Cheraw State Park Golf Course will remind the knowledgeable golfer of classic golf courses designed and built in the early 1900s. With gentle sloping greens and generous landing areas on most of the par 4 and par 5 holes, players will experience golf in a true parkland environment. Lake Juniper serves as a backdrop on several holes making a golf trip to Cheraw State Park a visual treat. The state park golf course is also a Certified Audubon International Wildlife Sanctuary.
For additional park and golf course information, please visit the Cheraw State Park Golf Course HERE or call the pro shop directly: 1.800.868.9630. You can also book tee times online.
Hickory Knob State Resort Park, home to Hickory Knob Golf Course, is adjacent to Lake Thurmond, a large reservoir lake in McCormick County named after Senator Strom Thurmond. The lake serves as a defining feature of Hickory Knob and its waters are visible or come into play on every hole of this challenging course. In order to score at Hickory Knob, be prepared to hit every shot in the book.  The course features a tremendous variety of slopes, contours, fairway widths and bunkering, so players need to bring their best game.
For additional park and golf course information, please the course website HERE or call the pro shop directly: 1.866.369.9331. You can also book tee times online.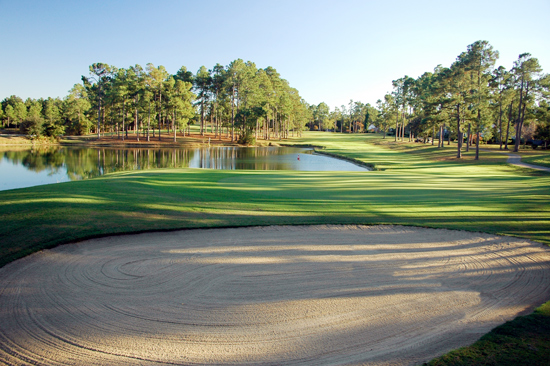 The Town of Santee, 'an oasis of recreation', is most notable for its championship fishing opportunities, as well as beautiful nature and hiking trails. But, with its spectacular golf courses, this lesser-known hotspot is gaining more attention and is regarded by those in golf circles as "America's Value Golf Destination."
There are three golf courses within a mile of town, Lake Marion, Santee Cooper Resort and Santee National (pictured on the left), and this trinity has become sacred ground for golfers from all over North America. In addition to Santee's three courses, there are four others within 20 minutes of town and another 10 courses within 40 minutes. View Santee Area Golf Courses. Santee's "Stay & Play" golf packages begin at just $56 per day and a broad range of accommodations is available.
Aiken, located just an hour west of Columbia and only 20 minutes east of Augusta, Ga., is also a must-do for any true golf enthusiast's bucket list. Known as "Thoroughbred Country" and home to the Aiken Thoroughbred Racing Hall of Fame & Museum, Aiken is also celebrated for its beautiful golf courses and has become a hub of golf in the Southeastern United States.
Originally built in 1912, with a portion of its design attributed to John Inglis, the historic Aiken Golf Club is one of the oldest courses in the nation. Professional golfers Babe Didrikson Zaharis and Patty Berg, among others, played here. Fred Astaire and other celebrities came to Aiken during the cold winter months to test their skills, and May Dunn was instrumental in making it the first course in America to feature tees especially for women.
Aiken's Palmetto Golf Club is reportedly the oldest operating 18-hole course, in its original location, in the Southeast. This private course was founded in 1892 by Thomas Hitchcock, a prominent New York sportsman, and designed by Dr. Alister Mackenzie who also designed Augusta National Golf Club.
Many notable people have played the course including golf legends Ben Hogan and Bobby Jones, Presidents Eisenhower and Taft, Bing Crosby, Fred Astaire and Barry Goldwater.
Additional information regarding Aiken and Aiken's golf courses is available online at VisitAikenSC.com