Le Blanc Spa Resort – Cancun
ANNOUNCEMENT:
For travellers to the Caribbean, you might have noticed a rapidly growing trend lately with resorts announcing multi-million dollar renovations to existing properties in order to create Adults-Only accommodations and amenities.  This trend has been particularly noticeable in the Dominican Republic and in Mexico, just like this one for Palace Resorts as they unveil a US$30 Million enhancement to their flagship property, Le Blanc Spa Resort Cancun. 
Expansive upgrades are seen on the resort's exterior but even more so on the interior, including a completely overhauled lobby, new designer guest suites, reimagined restaurants complete with new and upscaled menus, as well as changes to common spaces.
This beachfront adults-only property is situated in an enclave between Nichupte Lagoon and the Caribbean Sea. 
In addition to the impressive renovations, the resort also highlights traditional amenities including a 30,957-square-foot spa featuring 19 treatment rooms, a fitness centre, wellness centre, plunge pools, gourmet cuisine, butler service and 8K+ square-feet of meeting space.
Here are some of the focal points of the recent renovation: 
LOBBY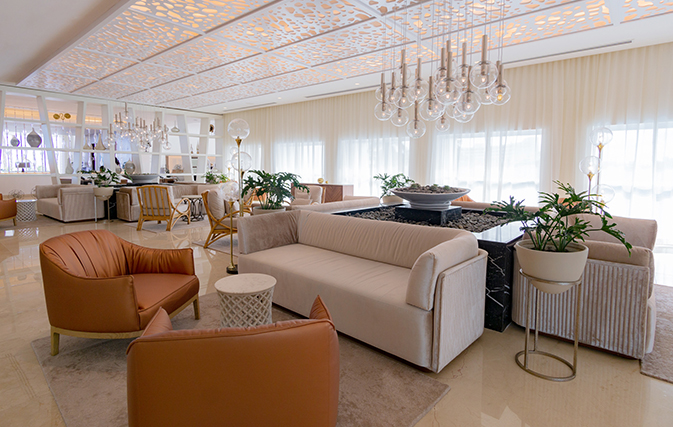 The lobby was redesigned with the purpose of creating an everlasting impression with a nostalgic throwback to when people used elegant hotel lobbies as places to meet and gather. 
The Cancun lobby now features several seating areas perfect for meeting up and getting together for a pre or post dinner cocktail, in addition to being a comfortable and welcoming space for guests upon arrival.  The design is a modern twist on grand old-style elegance with a mixture of fabric and leather furnishings in pleasing hues of fawn and taupe.  Contemporary light fixtures and splashes of greenery add a hint of colour and life. 
Upgrades and changes were also made to the resort's outdoor spaces, including the addition of more palm trees as well as hammocks on the beach. 
ROOMS & SUITES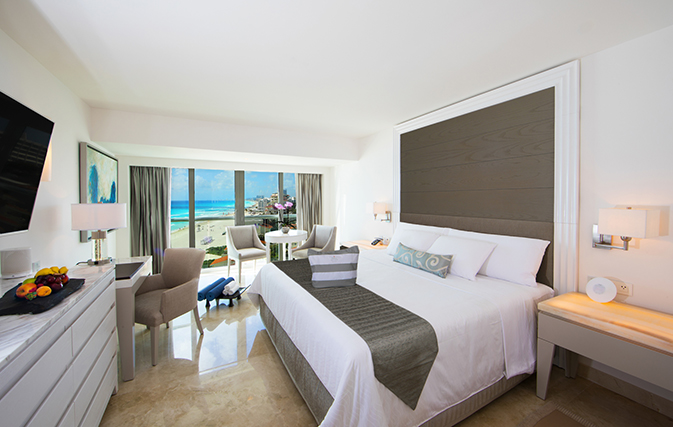 The resort's 260 rooms and suites, all of which offer views of the ocean or the lagoon, also underwent changes to their interiors with plush furnishings and a colour change to soft neutral hues. Each suite now features a private French-style balcony, a comfortable living area, and the choice of a king bed or two standard double beds with new memory foam mattresses.  Additionally, guests will find a double whirlpool tub and an oversized bathroom with luxurious amenities and a rain showerhead. 
Le Blanc Spa Resort Cancun also offers personal butler service, nightly aromatherapy menu and pillow menu. USB charging parts and upgraded touch lighting control. In addition, each suite features CHI blow dryers, CHI flatirons and BVLGARI personal products. Suites are also stocked with mini-bars featuring top-shelf spirits, snacks, high definition flat SMART TV's, featuring Apple TV and gourmet Lavazza coffee makers.
DINING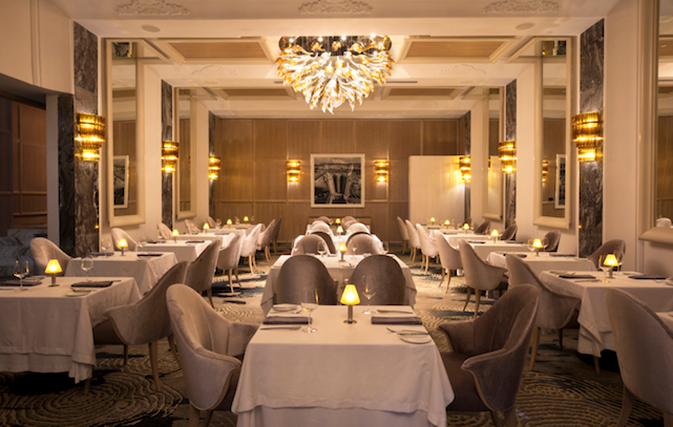 All of the resort's restaurants have been revamped with new décor, upgraded menus and new dining concepts. Restaurant options include:
Bella: The menu, curated in collaboration with Michelin Star chef, Giussepe Iannotti features authentic Italian delights such as Pappardelle all 'Amatriciana, Salmone all'Arancia.
Blanc: Modern Mexican cuisine, mixed with traditional flavours.
Lumiere: The resort's signature restaurant has a new menu focused on distinct ingredients such as escargot, duck and foie gras. Lumiere features a private dining room for a capacity of up to 10 guests, for the ultimate intimate dining experience.
Yama: An eclectic modern Japanese restaurant featuring classic favourites. The new restaurant's name was inspired by Palace Resorts' late Executive Chef Teruo Yamamoto, who inspired and innovated the Japanese dining experience.
Terraza Wood Fired Bistro: This restaurant was completely redesigned to create an ambiance where guests can enjoy views of the Caribbean Sea while dining on delights from the wood fire oven.
Pure: Healthy dining options meet the luxury all-inclusive experience at Pure.
Glasé: A traditional ice cream parlour with fresh home-made ice cream and fresh fruit popsicles, traditional milkshakes and a plethora of sweets. The menu offers traditional flavours but also features artisan flavours such as Coconut, Pistachio, Salted Caramel and Mango.
K'akau: Coffee & sweets shop K'akau features a variety of crepes, macarons, petit fours and chocolates.
Meanwhile, the property's bars feature an extensive list of libations by the resort's top mixologist. Cava, a trendy lounge, offers a live band, a DJ spinning the latest beats, exquisite cocktails, pool tables, and big screen TVs. 
MEETINGS & GROUPS
Le Blanc Spa Resort Cancun offers more than 8,115 square feet of space for corporate and social events.
WELLNESS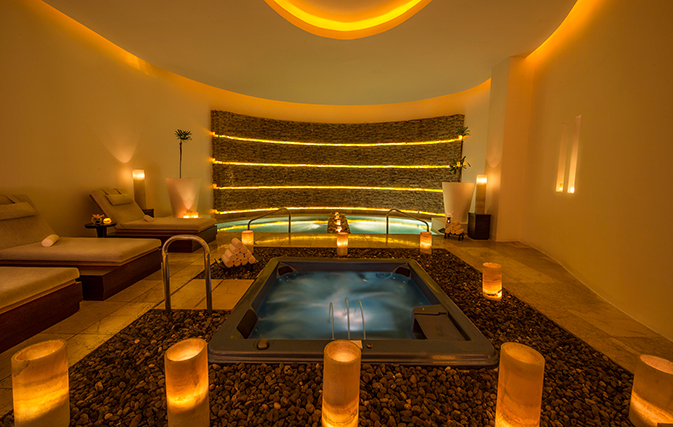 The all-inclusive wellness retreat resort is home to BLANCSPA, with hydrotherapy area, hot and cold plunge pools, sauna, herbal steam room, chromotherapy, sauna therapy, relaxation lounge and 19 treatment suits. The spa recently unveiled a new signature service: The Balchè Massage.
To complete the uber-expensive resort reno, Palace added and/or upgraded leisure activities, including the addition of Aqua Body Strong fitness (stand up yoga), live music, karaoke, guided meditation classes, hatha yoga, TRX training, and Aqua spinning and more.
FINAL THOUGHTS
With so many resorts now catering to an Adults-Only experience, the majority of destinations are stepping up their game in order to compete.  And the winner here is definitely the consumer, who now has a myriad of options to choose from – Le Blanc Spa Resort Cancun among them.
Photos & Dining Info via TravelWeek Group