These traditional feasts celebrate the island's history through the Hawaiian spirit of "hookipa" (hospitality), welcoming guests to an unforgettable dining, entertainment, and cultural experience.
This unmistakably Hawaiian tradition lets locals welcome guests into their "home," sharing with them their culture's love of music, dance, fellowship, and Hawai'i's history through this unforgettable feast.
Booking your lū'au experience early in your stay is suggested, as it lets guests understand Hawai'i's culture, food, history, the topography of the land, and so much more. By doing this, in the beginning, guests can reflect on what they learned, and pull from that enriching cultural knowledge as they continue their adventure throughout the week.
Here are our recommendations for some of Maui's best and most popular lū'aus to experience:
Held outdoors along the stunning oceanfront backdrop of Kā'anapali Beach, this theatrical dinner show integrates the elements of earth, fire, and water to dramatically reflect rich Polynesian culture. The newly-revitalized Aloha Pavilion with cascading waterfalls, tropical gardens, and tiki torches presents the perfect setting for guests to embark on an exciting journey to the Polynesian Islands where dance was considered not just as a form of entertainment, but as means of telling stories. Highlights include the story of Pele, Goddess of Fire and a new performance dedicated to Wailele (meaning waterfalls). The show also features dances from Hawaii, Fiji, Tahiti, New Zealand and Samoa. The breathtaking finale is none other than Maui's only extreme fire-knife dance performance.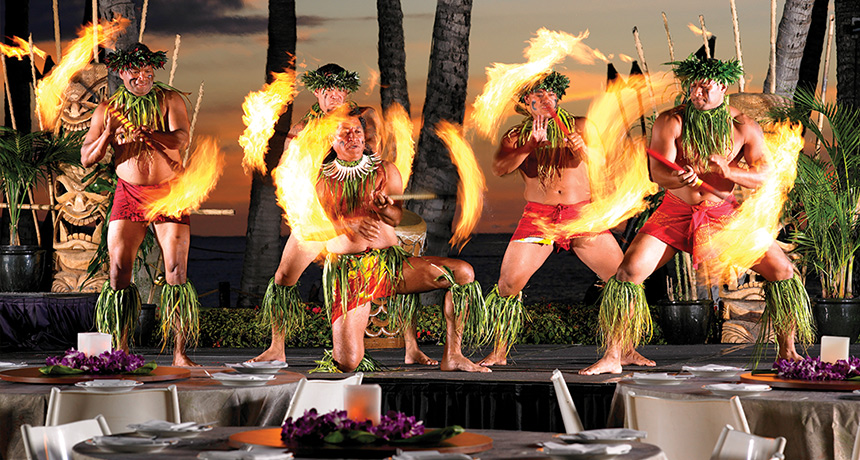 Enjoy being greeted with a fresh tropical flower lei and a mai tai as you take your place at this popular lū'au. With attention to authentic Hawaiian culture and detail, this traditional celebration also features local arts and crafts and a spectacular sunset view as you enjoy a buffet of tasty local dishes. Hookipa is still the hallmark of the evening at the Luau, with a ratio of one staff person for every twelve guests.
Held on Lāhainā Beach, this upscale lū'au takes guests on a journey through Polynesia, with a five-course sit-down dinner featuring epicurean courses from the island nations of Aotearoa, Tahiti, Samoa, and of course, Hawai'i. Food is brought to you (no standing in line) and table sizes are nicely customized to fit the size of your party.
Rekindle romance in a spectacular setting where every table is intimate and offers a panoramic view of West Maui sunsets. Lele is the ancient name for Lahaina, and this is the beach where the royal family of Maui would feast and entertain.