Riser Luggage Shelf by Rise Gear
You might be aware of the phrase, 'necessity breeds innovation' and that's certainly true for this travel product, the Riser Luggage Shelf by Rise.
The apparatus was developed by 2 brothers, Sean and Lee Renshaw, the latter of which grew weary of dealing with a dishevelled duffel bag while travelling. Out of necessity, the Riser was born as a portable shelving system that solved organizational issues with the added bonus of being quick to pack and unpack.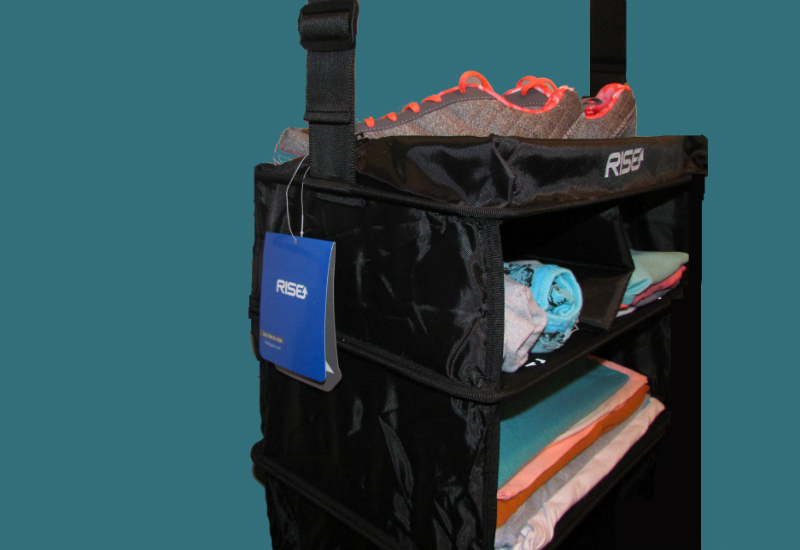 The concept is simple but highly effective. Essentially, the lightweight unit contains 3 roomy shelves with the top shelf divided in half to create 2 smaller spaces for additional organization. On top is a zippered pouch, and beneath is a sizeable open area. Two large hooks with thick rubberized coating allow the Riser to grip when it is hung on a closet rod or overtop of a door. Without the fear of slipping and sliding, it's easy to start packing.
Large shelves can be used for such items as folded shirts, pants, and jeans, perhaps even workout gear, and the smaller cubby hole areas are perfect for such items as undergarments, socks, a nightgown, or a rolled bathing suit. Use the zippered pouch for shoes or anything you wish to protect, and the large bag-like bottom for larger items such as a sweatshirt or hoodie, as long as it's folded flat.
It should be said that its necessary to leave some room on each shelf. They can't be packed to the hilt, otherwise, the unit will not compress to fit inside luggage.
Upon packing completion, remove the Riser from the door or closet rod, collapse the shelving and tuck it into your suitcase. It's that simple. Another plus for this item is that it prevents clothing from sliding and shuffling around inside the suitcase while being pulled around, placed in and out of cars, and being manhandled at the airport. Less movement will prevent clothing from wrinkling.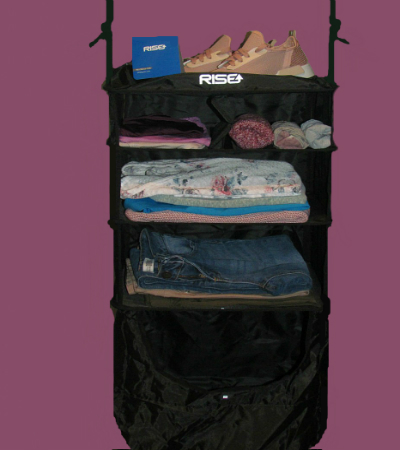 Two loaded risers can fit side by side if you're packing a large suitcase, one will fit comfortably into carry-on luggage.
Prepare for fast and easy unpacking when you arrive at your destination because, once again, you can easily remove the unit from the suitcase and hang it inside your hotel closet or over the back of a door, already loaded with your clothes. The weight of the clothing will help it to stretch it open fully.
Not only does this allow you to bypass the potential uncleanliness of a hotel room dresser, but it also ensures that everything is where you can see it instead of tucked away in a drawer where you might accidentally leave something behind. Remove the items you might have tugged into the large bottom pouch and this area can now be used as a laundry bag to keep soiled clothes separated from the rest.
After the ease of travelling with the Riser and experiencing the convenience of having so much at approximately eye level, you just might find that you want another Riser for your home closet. If you're short on space in your dresser or are lacking shelf space in your closet, this is the perfect solution.
It's also ideal for tidying up and organizing chaotic closet space. As a matter of fact, we envision this product as having several uses over and above travelling, including cleaning up scarves, mitts, and hats in a front hall closet, tidying a child's playroom or craft area, or organizing last minute bridal items that need to be transported to a wedding site, such as shoes, a veil, spare nylons, curling iron, a garter, etc. Everything can hang on the back of a door while the bride gets ready.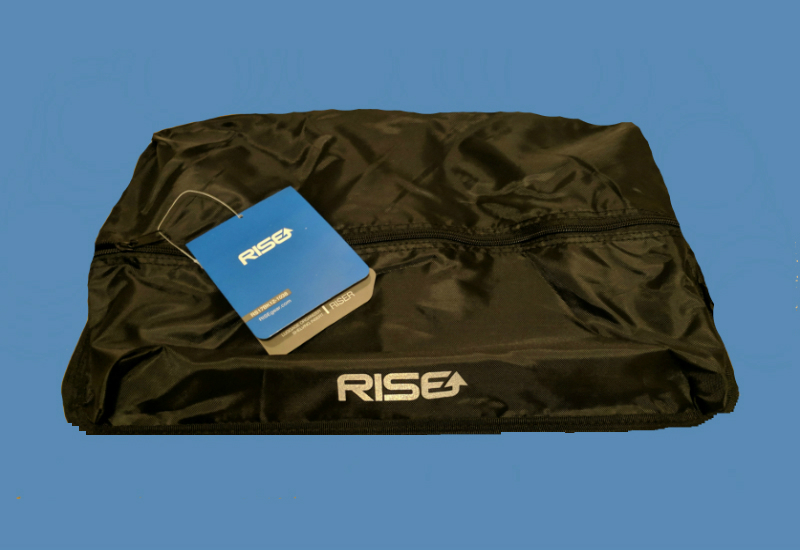 If you would prefer to store the Riser for your next trip, that's easy too because the empty shelving compresses flat to its original size and does up neatly by clasping the two rubberized hooks together. Just leave it inside your suitcase so no extra storage space is required.
We were truly impressed with the multi-functional Riser, at just $39 USD. It's size and light weight coupled with its convenience, organizational factor, and ability to fit effortlessly into a suitcase or carry-on, makes this the "perfect travel companion". And it doesn't snore or hog the covers.
With headquarters in Toronto and the backing of television's entrepreneurial show Dragon's Den, the Renshaw's are currently expanding their Rise brand to include a suitcase, carry-on, and a stylish tote.