Thailand's Must-See Sights and Attractions
Thailand is a kingdom of wonder, filled with spectacular natural, cultural, and historical attractions in virtually every area of the country. If you're looking for a big city experience, head to Bangkok or Chiang Mai.  If you desire a scenic vacation of beaches and mountains, Phuket is the answer.  Beautiful scenery of a different kind can be found in Krabi, with its limestone cliffs, mangrove forests, and a hundred plus offshore islands.  Ratchaburi is west of Bangkok and borders Myanmar. It is known for its floating market, where vendors sell food and crafts along the canals. The countryside features hot springs and a waterfall, with 9 terraced levels. And Buri Ram, meaning city of happiness, provides visitors with a look at Thailand's history offset by modern sporting facilities.  And that's just to name a few of the more popular destinations.  Bottom line – no matter where you go, there's plenty to see, do, and admire.
If you're not entirely sure as yet which types of attractions you'd like to visit during your trip to Thailand, here are some helpful suggestions.  You can find many more on Thailand's Tourism website by clicking HERE
BANGKOK
Grand Palace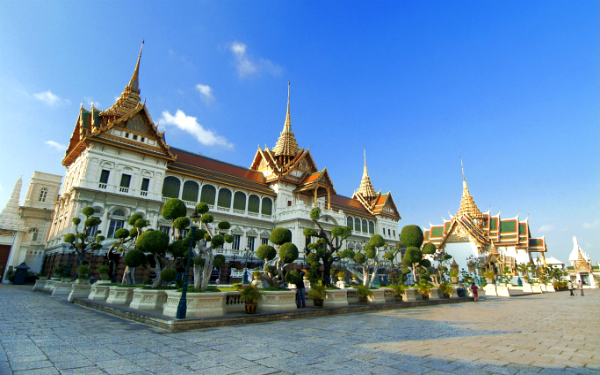 Located in the heart of Bangkok, the Grand Palace was a former residence for King Rama I to King Rama V of the Rattanakosin Kingdom. Today, the place is used for hosting royal ceremonies and welcoming the king's guests and other foreign dignitaries. It is also where the remains of kings and high-ranked members of the royal family were kept prior to cremation.
The Grand Palace is divided into two main zones, which are the Temple of the Emerald Buddha and the royal residence. The latter is divided into three major areas: the Outer Court, the Middle Court, and the Inner Court. The southern area of the Inner Court was once a females-only zone where the queens, consorts, consort mothers, and daughters of the king lived together with many ladies-in-waiting and servants; no man except for the king was allowed inside.  The Inner Court no longer services as a residence.  However, visitors are asked to respect by dressing in black or white to show condolence to the late King Rama IX.
Another area of interest is the Pavilion of Regalia, Royal Decorations, and Coins, where Thai coins and regalia are on display.
Rattanakosin Exhibition Hall
This vintage, art-deco building turned exhibition hall narrates the history of Thailand during the Rattanakosin Era (circa 1782 onwards) through a variety of interactive exhibitions in seven chambers. Visitors will enjoy observing the Grand Palace via 4D multimedia spectacles as well as an animation depicting the legend of the sacred Emerald Buddha. On the fourth floor, there is an observation room you can enjoy an elevated view of a historic Ratchadamnoen Klang Road, where most of the political movements took place, Loha Prasat, the world's only metal castle, and the revered Golden Mount.   Opening hours: Tuesday – Sunday, 10 AM – 7 PM   Admission: 100 Baht (Thai and Foreigner) Student showing student cards, over-60-year-old senior citizens: Free of charge
Wat Pho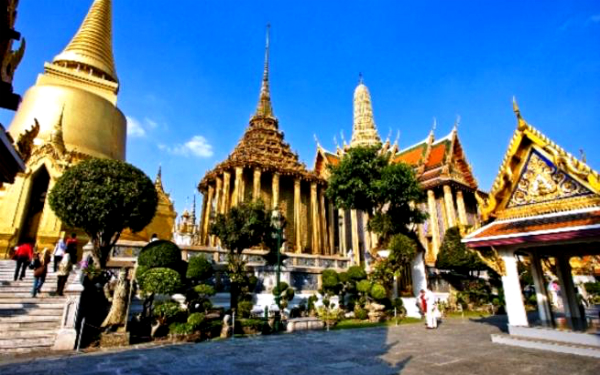 Wat Pho is not only one of the most visited Buddhist temples in Bangkok but it is where history, medical science, and education traverse. Officially named Wat Prachetuphon Vimon Mangkararam, Wat Pho was founded during the 16th century and later served as The Royal Temple of King Rama I of Chakri Dynasty. Laid inside the main ordination hall is the sacred 46-meter Reclining Buddha whose feet are beautifully inlaid with mother-of-pearl, carved with holy signs. Wat Pho is, among Thais, also known as "the nation's first public university," thanks to 1,360 marble inscriptions about medical, historical and liberal sciences placed all around the temple.  Marble inscriptions about medical sciences, anatomy, and orthopedics are the origins of Wat Pho Thai traditional massage principles, which has made Wat Pho a world's famous site. Wat Pho is listed as UNESCO's Memory of the World (MOW) as a documentary heritage for Asia and the Pacific Region.
National Museum of Royal Barges
Operating days: Monday – Sunday 9:00 am – 5:00 pm. One of the most beautiful ceremonies you will ever see floating down the river is The Royal Barge Procession. Each barge is taken carefully tended to by the Fine Arts Department under the supervision of the Bureau of the Royal Household and Royal Navy. The National Museum of Royal Barges in Bangkok is a former cradle for royal barges. The Fine Arts department registered every one as a national heritage and appointed the cradle to National Museum of Royal Barges Bangkok in 1974.
BURI RAM
Phanom Rung Historical Park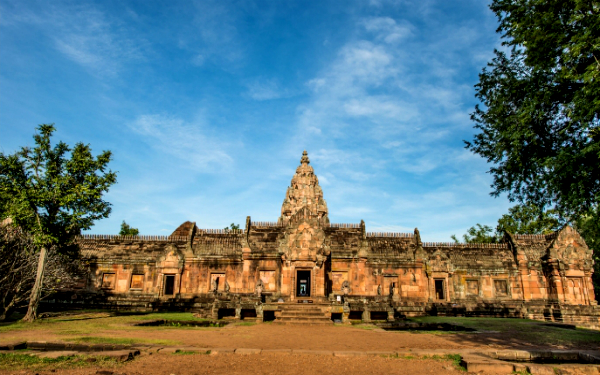 Phanom Rung Historical Park, otherwise known as Prasat Hin Phanom Rung, is a key location in Thailand. It has many important archaeological sites, which are located at the top of an extinguished volcano approximately 350 meters above sea level. On this now dormant volcano visitors will find incredible Khmer architecture, which is assumed to have been built in the 15th – 18th Buddhist century. Guests can appreciate and admire the giant stairways of red stone and sandstone. The story of Prasat Hin Phanom Rung has long been part of Thailand's steeped history so don't miss this on your list of must-see destination.  
Silk Villages
Buri Ram contains a number of silk villages that tourists can visit, including CHAROEN SUK SILK VILLAGE, BAN NA PHO SILK VILLAGE, and SANUAN NOK GARDEN HOUSE, each one of which features their own unique local patterns, style, and technique.  Each village also offers tourists a different experience, with interesting and unique features to each village as well as local cuisine and customs. Visitors also have the option to purchase some of the textiles.
Chang International Circuit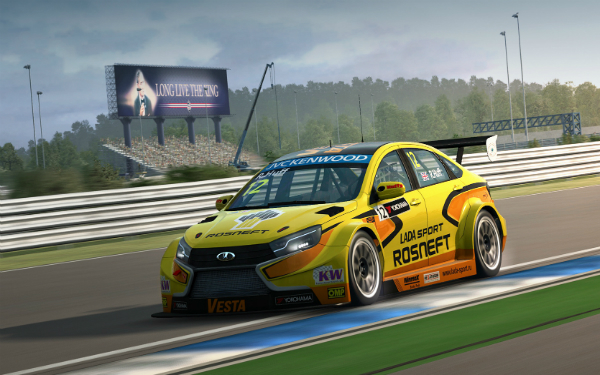 Chang International Circuit is a Super GT racetrack designed and built to accommodate such racing classes F3, GT1, GT2, and GT3.
Motorcycle racing also takes place at this track, accommodating FIM Grade A according to Federation International de Motocyclisme FIM,  which means that the circuit can organize Moto GP racing.
For more information please call; +66 4460 4200 or visit website http://www.bric.co.th
I-Mobile Football Stadium
Continuing with sports, Buri Ram's I-Mobile Football Stadium is of standard size and includes modern facilities while accommodating up to 32,600 visitors.  It also features an adjacent park where everyone can relax.  The stadium was designed using technology from the Lester City Engish Football Club.  So for an experience completely different to any listed so far, visitors to Thailand can mix with locals and immerse themselves in a spirited 'soccer' game.
CHIANG MAI
Chiang Mai Zoo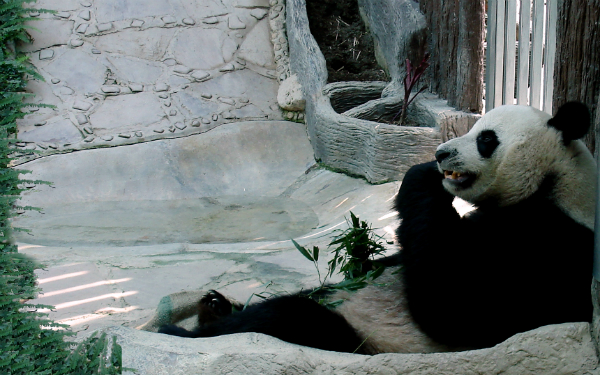 This zoo is home to a wide variety of wildlife such as the koala, meerkat, zebra, and penguin, and including rarer species like the panda. The zoo also features an aquarium with a 133-foot long walkway through amazing sea creatures from the deep, or visit the Nakorn Ping aviary which sits on six acres.  Try the night safari with a tour guide to learn more about incredible animals, available from 6.30 – 9.00 pm. And while you're there, take the kids to the children's area of the zoo which boasts plenty of cute animals, or let them have fun at the onsite Water Park.  Admission to the Chiang Mai Zoo is:  Adult 100 THB Child 20 THB Student 20 THB   This price does not include a pass to special zones, so if you want the full experience, it is better to buy one of the package deals.
Doi Suthep-Pui National Park
Doi Suthep is part of the National Park, containing Doi Suthep, Doi Buak Ha, and Doi Pui which are sources of rivers and share many tourist attractions including the palace of Phra Tamnak Phu Phing. Visitors can enjoy the gardens or waterfalls around the palace or birdwatch in the greenery. There are also Hmong crafts and souvenirs for purchase. Accommodations in Doi Suthep-Pui National Park include bungalows and tents, and visitors can find many restaurants as well.
Royal Park Rajapruek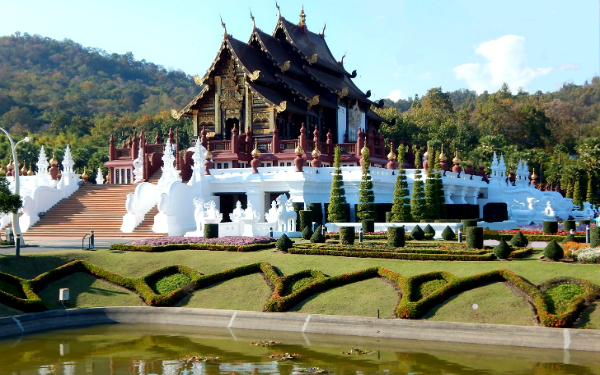 The Royal Park Rajapruek was previously named as International Exposition for His Majesty the King; Royal Flora Rajapruek, to commemorate the 60th anniversary of His Majesty the King Bhumibol Adulyadej's Accession to the throne on June 9, 2006, as well as celebrate his 80th birthday. It is one of the most popular agro-tourism destinations in Chiang Mai and is the center of agricultural research. The landscape is gorgeous and delicate, and visitors will discover greenhouses and beautiful gardens, including Thai Tropical Garden, as well as varied agricultural.  The exposition is divided into zones for ease of navigation as visitors to wander the park and learn as they go, beginning with a 250 million-year-old pine tree at the park's entrance. Another interesting feature is an international garden zone in which 24 different nations participate.  Royal Park Rajapruek is open Monday – Sunday from 8 a.m.- 6 p.m.
Huai Nam Dang National Park
This 180-square-kilometer national park is located in the Mae Taeng district and features mountainous terrain and lush forest.  It is a favourite among photography lovers, especially during the winter months when the weather is cooler.  Ascending to the viewpoint at Doi Kiew Lom offers a stunning scene when the peak of Doi Chiang Dao emerges from a sea of fog in the early morning hours. Nearby attractions include Pong Nam Ron Tha Pai (hot spring) and Namtok Mae Yen (waterfall), all located in Mae Hong Son. Camping is allowed but visitors must bring their own camping equipment and food. For a more adventurous experience, take a 4×4 vehicle to Doi Chang Viewpoint for scenic views of natural mountain ranges.  Admission: 300 baht for adults, 150 baht for children.
KRABI
Mu Koh Hong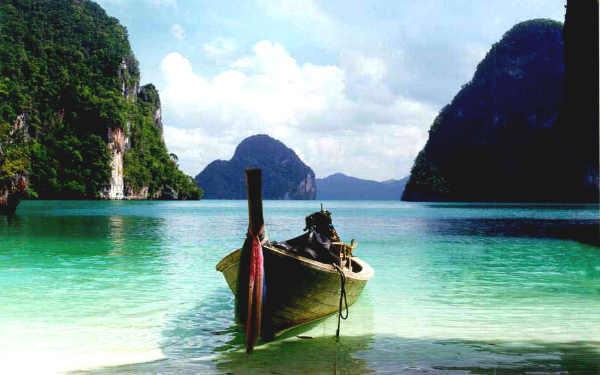 The Hong Islands are located in Than Bok Khorani National Park in Krabi Province. This is a collection of big and small islands like Koh Lao or Sa Ga, Koh Lao Riam, Koh Pak Ka, and Koh Lao Lading. Located in the south, the wing-shaped Koh Hong is the biggest. The geography of the island is incredible limestone, clear seas, beautiful white beaches, and deep and shallow coral reefs, so it is the perfect place for diving and fishing. On the island, there is a 400 meter-long nature trail for hiking experiences.
Visitors can also climb into a colourful canoe to experience the beautiful islands views from the water. This option is a favourite among tourists, which is why it has inspired so very many travel photos like the one you see here. Camping is only 20 THB per night, but guests must provide their own tent. Admission to the National Park is free.
PHUKET
HAT KARON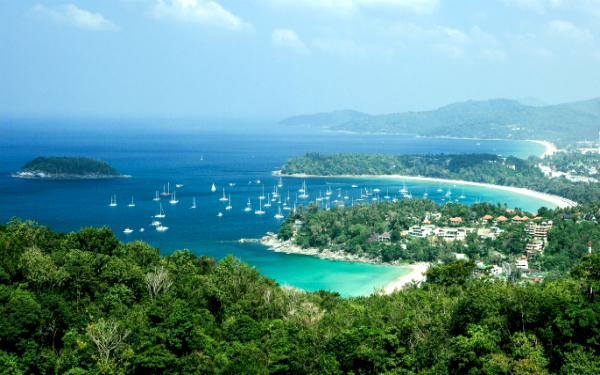 Karon Beach, locally known as Hat Karon, is the longest beach on Phuket island. The area is a must among tourists due to the fine white sand and beautiful ocean views. It's the perfect place to kick back and relax.
Because of the beach atmosphere, there are several resorts, hotels, and restaurants in the region, along with nightclubs, shopping markets, and tourism services.  There are also plenty of water sports and boating tours for visitors to enjoy.
HAT KATA
Kata is a sister beach of Karon, located southward from Karon Beach. This golden sand beach is best known as the home to the world-famous, activity-focused resort of Club Med.  South of Kata Beach, visitors will encounter a steep cliff that helps to divide the beach, with a smaller but more private beach located on the other side, called Kata Noi.
RATCHABURI
Damnoen Saduak Floating Market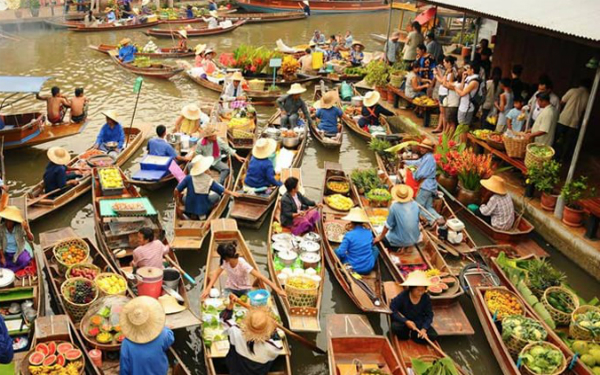 Located in the Province of Ratchaburi in the Damnoen Saduak District, approximately 100 kilometres from Bangkok, tourists can experience the floating market.  Thailand has numerous floating markets in different provinces and regions.  However, the Damnoen Saduak market was the original, constructed by King Rama IV in 1866.  However, it continues to operate primarily as a tourist attraction and relies on foreign and domestic visitors.  The market opens at daybreak when local farmers begin to arrive in order to trade.  The canal quickly becomes chaotic with so many boats and buyers, but it's an experience that should not be missed.  This particular floating market even offers tours for visitors wishing to see and learn more.
Veneto Suanphueng
Suan Phueng is another destination that travelers should visit for lush forests, streams, mountains and chic stories.  Get ready to experience the trendy market, which simulates the romantic atmosphere of Veneto, Italy on a large lake.  Western-Italian architecture combined with Santorini and Mykonos Greece is featured with clean white buildings accented in blue. The market has many interesting products for purchase and fun activities to try, such as darts, bottle throwing, airsoft guns, and cycling around the lake.  This is also a fantastic area for photography, starting with a new 360-degree photography museum and furthered by numerous backdrops for interesting selfies.  The market is open every day from 9.00 am to 6.30 pm.  Access is free for the disabled, 70 baht per person for other visitors, and a 4-D shooting fee is 200 baht per person.  For more information, you can visit the market on Facebook at www.facebook.com/ venetosuanphueng  to learn more.
The attractions mentioned here are only a drop in the bucket compared to what Thailand has to offer. We have highlighted on some of the best attractions, but haven't even begun to cover other interesting regions such as Beung Kan, Kanchanaburi, Pattaya, and Pitchit, all of which have much for tourists to see and do.  For a comprehensive list of attractions in every region, visit Thailand's Tourism website at this LINK 
Courtesy of Tourism Thailand