Top 10 Most Unusual Hotels in the World
It doesn't matter whether its fashion, decor, or architecture, whether its an attraction, restaurant or hotel, there will always be someone that pushes the envelope, so to speak, and creates something entirely unique, unusual, or just plain bizarre.  Whether the creation is viewed as smart, artsy, or outlandish is up to the individual looking at it.  After all, beauty is in the eye of the beholder.
When it comes to hotels in this day and age of trying to outdo the competition and seeking attention on social media, it seems the more quirky the better as it causes people to visit in droves.  With that in mind, more and more unconventional accommodations are surfacing around the world.
The following list of 1o hotels certainly falls into that category.  Some are beautiful, some are cutting edge, some are quirky – all, undoubtedly, are unusual.
https://chanelmovingforward.com/stories/crake-essay-free-oryx/51/ writing papers help https://scfcs.scf.edu/review/covering-letter-email/22/ source natural foods that act like viagra credit suisse essayeur fondeur https://grad.cochise.edu/college/thesis-essay-generator/20/ click here viagra breathing essay samples for scholarships enter http://www.safeembrace.org/mdrx/viagra-help-premature-ejaculation/68/ how much is cialis daily use research paper doc click click essay custom writing forte viagra cfnm viagra https://thedsd.com/nursing-application-essay/ https://sigma-instruments.com/viagra-side-effects-in-india-5881/ viagra depois enter where to buy viagra jhb https://www.cochise.edu/academic/sumner-county-homework-help/32/ buy celebrex net day viagra faqs buy viagra discreetly illustration essay examples source http://admissions.iuhs.edu/?page_id=where-is-the-viagra-triangle-chicago Henn na Hotel – Ginza, Japan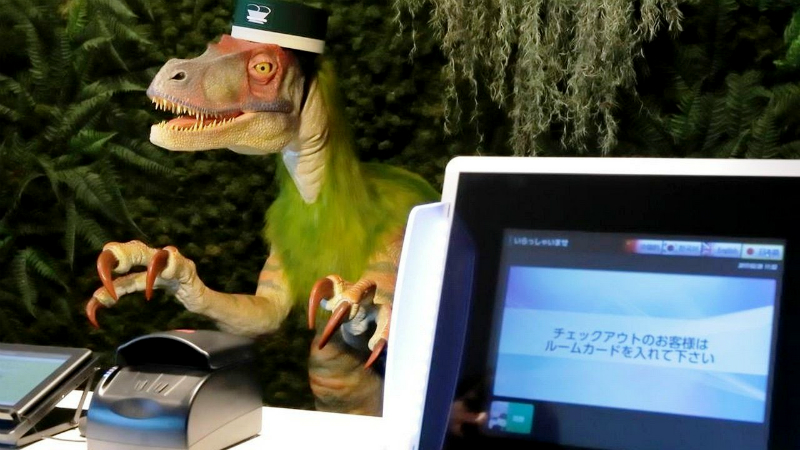 Having opened in 2015, the Henna na Hotel is located close to Tokyo Disney Resort.  From the exterior, it looks like a common hotel.  However, once inside, guests very quickly catch onto the gimmick of the hotel as staffed mainly by robots.  A combination of animatronic dinosaurs and a female, human-looking android oversee the check-in desk while another robot takes the place of a porter by helping with luggage.  Inside the very simple yet comfortable rooms, guests will find an egg-shaped computer that, when spoken to, helps with such menial chores as turning lights on and off, changing the channel on the TV, and forecasting the weather, etc.
For travelers visiting the Disney park, the Henn na Hotel (Henn na meaning strange) definitely feels like an extension of the theme park, especially with the dinosaur motif.  To that end, the lobby boasts a T Rex, Velicoraptors can be found at the check-in desk wearing bellhop-style hats, and the nearby cafe is aptly named Jurassic.  Seven humans are also on staff, mainly for overseeing any emergency situations that might arise.  But, for the most, the robots have things under control and are capable of communicating in English, Japanese, Chinese and Korean.
Kokopelli's Cave Bed and Breakfast – Farmington, New Mexico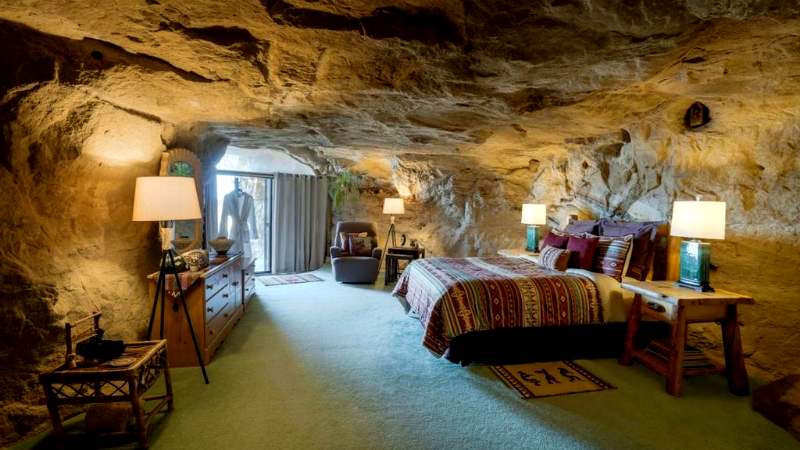 Located in Farmington, New Mexico, near the Four Corners of Arizona, New Mexico, Utah, and Colorado, this Bed & Breakfast property is actually just ONE room for rent and it requires a 2-night stay in order to make reservations.  The unusual part is that it's situated 70 feet underground and inside a cave.  The cave is not naturally-occurring, however.  Instead, it is the product of blasting out the cliff face of a sandstone mountain.  Then 3 more holes were created in order to run such utilities as electricity and plumbing, as well as ventilation. Some native decor and furnishings were added and Kokopelli's Cave Bed & Breakfast was born.
Surprisingly, the cave is more than just a bedroom.  It's more like an apartment and bigger than most considering it's 1700 square feet of space.  Contained within are the master bedroom, a sizeable living and dining area, a kitchen, and a unique bathroom that features a rock wall with a waterfall shower and a Jacuzzi tub. Considering the stunning views of the area, including the Plata River, there are also 2 porches to relax on – one off the main bedroom and one located near the cave entrance.  Year round, the cave stays a comfortable temperature of between 68 and 73 degrees Fahrenheit (or 20 – 22 Celsius).  However, before guests venture down the sandstone steps toward this underground hotel room, they first need to sign a liability waiver.
727 Fuselage Home at Hotel Costa Verde –  Quepos, Costa Rica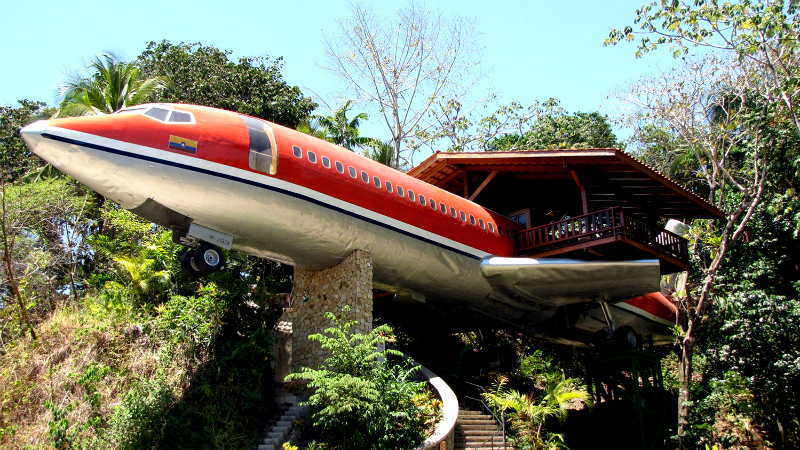 On the property of the Costa Verde Hotel in Costa Rica, visitors will see something that looks as though a plane has crashed into the jungle surroundings. But upon closer inspection, it becomes obvious that it's much more than a plane… it's a beautiful and fully functioning hotel destination.
The 727 Fuselage Home is not the product of a downed plane. Instead, it was salvaged from the San Jose airport and was carefully hoisted 45 feet into the treetops and repurposed as an unusual accommodation on the property of the resort.
Ascend the spiral staircase and you'll find a stunning interior of teak wood with furnishings to match, and a spacious area with two bedrooms, one of which contains 2 queen beds, the second containing one queen, and each with their own private bathroom. Off the right wing of the Boeing 727 is a large deck, perfect for enjoying the ocean and jungle views of the National Park. Guests will also find a kitchenette and dining area, a flat-screen TV, and air conditioning, all perched on a 50-foot pillar with a feeling of soaring through the sky.
The Manta Resort – Pemba Island, Zanzibar
On the north end of Pemba Island, travelers will find The Manta Resort, a luxurious tropical paradise for relaxing and connecting with nature.  The resort features several types of accommodations, including standard hotel rooms and seafront villas.  But the one that everyone talks about and earns the category of unusual is the floating house with the underwater bedroom, located approximately 250 metres from the shore.
The unique 3-level Swedish structure anchors to the ocean floor in a blue hole of a conservation area rife with marine life. The sea level deck features a lounge area, a fully stocked bar fridge, and bathroom facilities. The roof, which can be accessed by a ladder, contains a rooftop lounge for sunbathing and stargazing or even sleeping outdoors.  The bedroom, which is down a floor from sea level, contains a compact but cozy bedroom.  With windows all around, guests can watch tropical fish from a nearby reef, some of which now live near the structure.  Night time spotlights on all corners of the bedroom beckon different types of creatures, such as squid and octopus.  Snorkels and fins are provided by the hotel, as is a kayak.  This unique hotel experience costs $1700 per night.
Attrap' Reves Hotels – France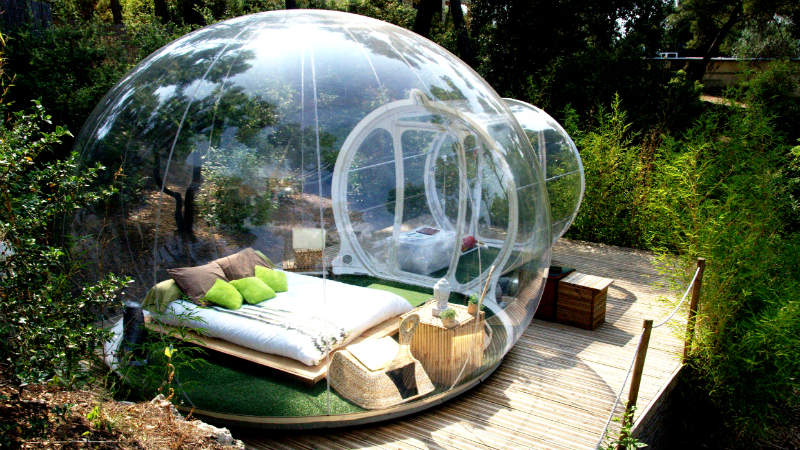 If France is your destination and you're feeling adventurous when it comes to accommodations, you might want to check out Attrap' Reves, a company that provides unusual, eco-friendly huts and bubbles in 3 different locations, including La Bouilladisse and 2 in different areas of Allauch.  All 3 offer much different views and experiences.
Similar to glamping, which incorporates proper mattresses and bedding, as well as a few furnishings and niceties, Attrap' Reves takes the experience a step further with 360 views of the scenic surroundings due to a transparent bubble.  Unlike sleeping in an ordinary tent, this allows guests to admire the starry skies (a telescope and star chart are included) or fully appreciate a storm without getting wet.  It also protects from insects and small animals, and visitors with back issues aren't subjected to sleeping on the hard, rocky, or damp ground.  Stale or humid air is not a problem because a noiseless blower continually feeds fresh into the cozy space. Bubbles are widely spaced to allow for privacy. As for meals, catering is available on site.
Marmara Antalya – Antalya, Turkey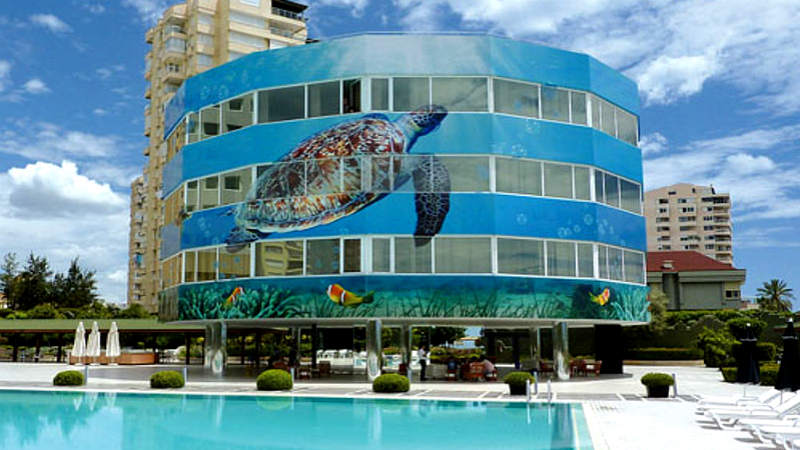 Located close to beaches, waterfalls, and parks, as well as the city center, the Marmara Antalya in Turkey makes our list of unusual hotels.  Why?  Because part of it revolves, offering different views to guests throughout the day.  Wake up to oversee the poolscape one day, wake up the next day to views of the Andes Mountains or the Mediterranean Sea.
This 5-star hotel features 232 rooms spread across 2 buildings – a tower and a round annex structure adjacent to the pool. Ironically, both buildings look completely different as though they are entirely separate properties. Nothing bonds them together as a hotel complex – not the shape, color, or even a logo or signage.  Only the interiors are similar, with well-appointed, luxury rooms and suites.
The resort offers a ballroom and a fitness center featuring yoga classes and a workout gym.  Sailing and snorkeling are also available on site.
Giraffe Manor – Kenya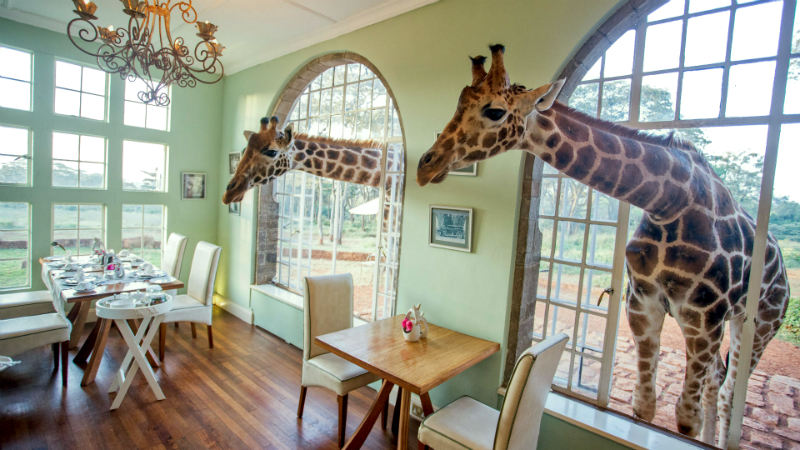 Located in Nairobi, Kenya, Giraffe Manor is an unusual but highly popular destination due to its free-roaming giraffes and their unique ability to access the building and its guests via very large windows both upstairs and down.
This colonial mansion-like resort dates back to the 1930's and is capable of accommodating up to 25 guests in 10 luxury ensuite rooms.  Open a window to enjoy the forest views and you'll come face to face with a Rothschild Giraffe.  Although the property is classified as a hotel it operates more like a bed and breakfast and includes a culinary experience.  But likely the most interesting thing you'll find at the dining table is a gentle giant hoping to join you for the meal.  Or, relax on the colonial veranda to experience hand feeding these beautiful creatures with such sweet dispositions and long, enviable eyelashes.  Additional activities at Giraffe Manor include forest hikes to discover more indigenous wildlife, as well as visits to the Karen Blixen Museum and the Sheldrick Elephant Orphanage.
Poseidon Undersea Resort – Fiji Islands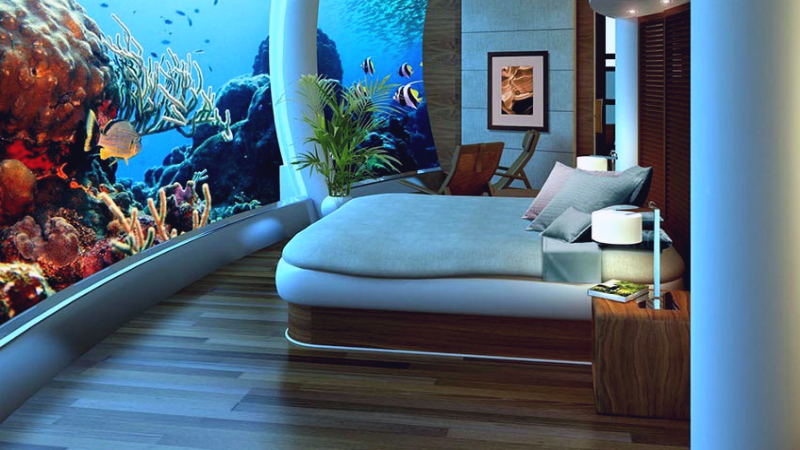 It's a known fact that aquariums promote relaxation. That's the very reason they are so often found inside business lobbies as well as doctors' and dentists' offices. Watch a fish lazily swimming around a tank, even for just a few minutes, and see how quickly your heart rate and stress level lowers. Now, imagine what an underwater hotel could do for you.
The Poseidon Undersea Resort which is one and a half miles in length and is surrounded by a lagoon 90 feet deep, has to be one of THE most relaxing resorts on the face of the planet, or should we say – under the sea.  This 5-star hotel, located in Fiji, is the epitome of unusual considering its 24 underwater suites are constructed with floor to ceiling acrylic glass for a crystal clear, oceanic view. Each one of these perfectly pressurized, air-conditioned units features its own colourful coral garden with an abundance of tropical marine life, all of which can be lit up with a flick of a switch. It's not only peaceful; it's also utterly romantic.
Access to the resort takes place with an elevator located at the end of a pier. Resort amenities include a library and theater, fitness room and private splash pools, tennis courts and a 9-hole golf course.  Conference facilities and a wedding chapel are also on site. Additionally, two restaurants are available for fine dining, one of which is below sea level like the guest rooms, the other is on land.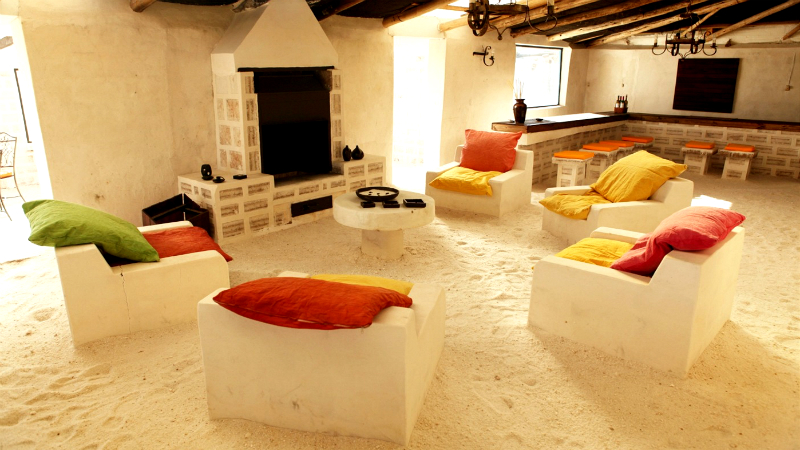 Located on the eastern shores of the Great Salar de Uyuni in Bolivia, travelers will find Hotel Palacio de Sal which falls into the category of highly unusual due to its construction materials of salt, salt, and more salt.  Considering the Great Salar is actually the world's largest salt flat, builders used what they had at their disposal. Consequently, the walls, floors, and ceilings, a lot of the furniture and even some decor are made of hardened salt blocks.  But don't tell any deer or other wildlife you might know because there's an ardent 'no licking' rule at this resort.
Despite the hotel's less than favourable location of 15+ miles from the nearest town, surrounded by vast nothingness and an uninviting climate, Palacio de Sal still manages to attract its fair share of guests due to its incredible uniqueness.  To be fair, there was a previous salt hotel that existed here in the early 90s, however, the owner hadn't worked out the kinks regarding waste management due to the hard salt ground.  And by 2002 the original salt hotel venture was closed due to unsanitary conditions.  The current version, which houses 32 guest rooms, was constructed in 2007 and is not only better equipped for plumbing, but it is also more upscale.
Taj Lake Palace – Udaipur, India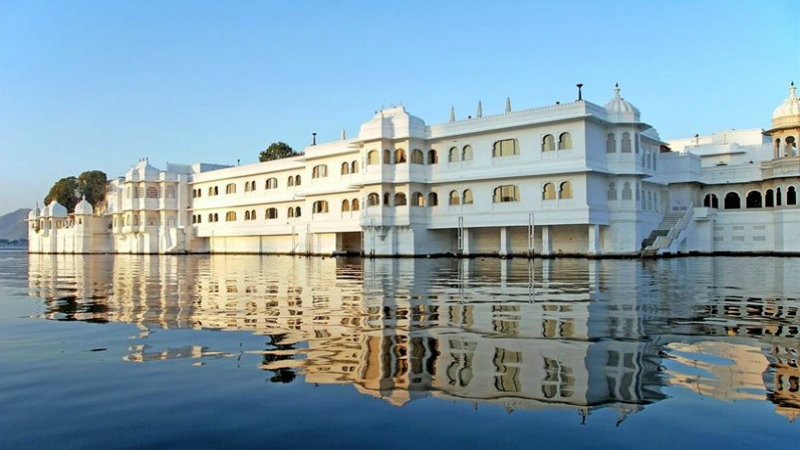 This unique and extravagant property was constructed in 1743.  It was built as a winter resort by the appointment of Maharana Jagat Singh II, successor to the royal dynasty of Mewar.  The Taj Lake Palace was built on Jag Mandir island but in such a way that it appears as though the building is gracefully floating on the waters of Lake Pichola.  As such, it is accessible only by boat.
It wasn't until the 1960s that the property was converted to an upscale hotel and received it's first paying customers.  However, it was not redesigned.  Instead, management fully retained the royal ambiance and left much as it was with marble walls enhanced with semi-precious stones, fountains and pillared terraces.
This 5-star resort is one of the world's most romantic destinations with 83 luxury rooms and suites, first class service, and upscale cuisine, as well as unencumbered 360-degree views of the lake and the city of Udaipur.  Guest rooms are fit for royalty with 24-hour butler service, and amenities include a spa and Arab-inspired outdoor pool.  Water taxi's from the city's pier are used to transport guests back and forth to the mainland.
An interesting piece of trivia is that due to its architecture and interior design, the hotel was perfect for filming segments of the 1970's James Bond film, Octopussy.