Top 10 Things To Do in The Poconos
The Pocono Mountain Region of Pennsylvania, more often referred to as The Poconos, is a year-round vacation destination offering a variety of accommodations and an abundance of things to see and do.  Spring, summer, winter and fall, the area is a picture taker's paradise with its lush forests, fresh lakes and rivers, majestic waterfalls, a mountain range with stunning peaks and valleys, and beautiful trails and bridges that meander through the region.
This is a fantastic place to ski, snowshoe, snowmobile, and toboggan in the winter, and it's an outstanding summer vacation destination for its kayaking, hiking, camping, golfing and fishing opportunities. Any time of year, it's a honeymoon hotspot given the area's many romantic resorts. Yet, there is SO much more.  So here is our list of the Top 10 Things To Do in The Poconos.
Explore a State Park – The Pocono Region is home to more than a dozen State Parks, each of which offers different views and things to do.
Hickory Run State Park contains more than 40 miles of hiking trails, 3 state park natural areas and miles of trout streams. A truly unique feature of this park is Boulder Field (pictured left), a vast and stunning boulder-laden area classified as National Natural Landmark.
Promised Land State Park, situated on the Pocono Plateau is surrounded by 12,464 acres of Pennsylvania's Delaware State Forest. Visitors can enjoy 2 lakes for fishing, boating, and waterskiing, as well as rustic cabins and camping. The park also features miles of hiking trails and exploring the forests.
Pymatuning is one of the most visited State Parks in Pennsylvania.  Guests are able to fish, swim, and camp here.  Additionally, the Pennsylvania Fish and Boat Commission operates a fish hatchery and visitor center, and the Pennsylvania Game Commission has wildlife viewing areas.
The Poconos also boasts Delaware State Forest, Beltzville State Park, Big Pocono State Park, and Lake Wallenpaupack among several others. For a full list, click HERE.
Be Inspired by Waterfalls – Photography buffs and nature lovers will adore the many beautiful falls formations in the Poconos.
Bushkill Falls (pictured left by David W Coulter photography), often called the Niagara of Pennsylvania, is an awe-inspiring natural attraction of 8 waterfalls with a web of hiking trails and bridges. Dingman's Falls, located near Dingman's Ferry, offers a 1.2-mile trail that also features a waterfall. The trail is used for hiking, nature trips, and birding and is accessible year-round.
Raymondskill Falls is a set of 3 cascading waterfalls located on Raymondskill Creek, located near Dingman's. Hawks Falls, located in Hickory Run State Park, is near Lake Harmony and contains a full mile of scenic hiking trails.
Enjoy an Adventure Park – Tourists looking for some sporty fun in the sun can do so via several local adventure parks and tours, for a vast number of activities inspired by the geography of The Poconos.
For example, Camelback Mountain Adventures (pictured left) is great for a day trip and plenty of scenery for such activities as zip lining, treetop trekking, mountain slides, and mountain coasters, as well as biking and Segway tours.
Pocono TreeVentures offers a similar experience with several activities for visitors of all ages and levels of physical fitness. From beginners to experts, the whole family can enjoy treetop trekking, dual racing zip lines, and ropes and ladder courses.
Or, venture to Pocono Whitewater or Jim Thorpe River Adventures to shoot the rapids for unforgettable rafting adventures.  There's also horseback riding, hot air ballooning, tubing, and golf to consider, with several beautiful and challenging courses in the region.
Play at a Waterpark – The Poconos touts a convenient mix of accommodations – everything from standard hotels for short visits to romantic specialty destinations for getaways and honeymoons to family-friendly resorts for full-fledged vacations. Luckily, many of the latter contain large and well-equipped waterparks.
Four such resorts are Camelbeach Mountain Waterpark, Great Wolf Lodge, Kalahari Resort and Conventions and Split Rock Resort. These facilities provide hours of fun and exercise, for kids, couples, and families.
Visit a Museum or Landmark – Experience the world of coal mining by visiting No. 9 Coal Mine, a unique anthracite coal mine and museum located in Lansford, Pennsylvania. Set 1600 feet into the mountainside, the mine operated from 1855 to as recently as 2002. Today, tours include a ride by rail into the mine, as well as a walking tour of the paths, mule-way, and mine equipment.
Continuing with the mining industry, travellers can explore Eckley's Miner's Village for an educational exploration of an 1854 coal miner's 'patch town' now frozen in time.
For an experience of a completely different kind, explore the German heritage of the region by taking a trip to Quiet Living Historical Farm (pictured above) and experience 114 acres of pristine pastures, woodlands and streams, and buildings from the 1850s.  In addition to all the farm animals housed here, including Clydesdale horses, visitors can explore the original farmhouse, smokehouse, and assorted other buildings including smaller barns. Quiet Valley is listed on the National Register of Historic Places.
Or, there is the Pocono Indian Museum, which houses hundreds of artifacts from the Delaware Indians, a tribe that was native to Northeastern Pennsylvania. Visitors can embark on a 30-minute informational tour of weapons, clothing, tools and tribal rituals, and then end their visit in the gift shop which features souvenirs inspired by Native Americans.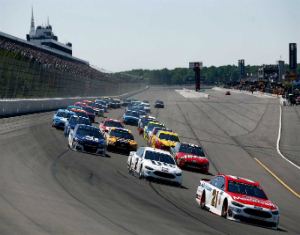 Experience the Speedway – Pocono Raceway, located in Long Pond is a must see. Travellers interested in motorsports can find a lot here during race season considering this triangular track hosts NASCAR events including the truck series, Xfinity, and the Monster Energy Cup series.
More stock car racing can be accessed here via the ARCA series. The 'Tricky Triangle', as it's called, also caters to Verizon Indy Car racing.
Thrill-seekers looking for more of a hands-on encounter can enjoy Go Karts on a 3/4 mile track on the infield, or climb inside a stock car for a Ride-Along or Drive Experience.  For travellers looking for a tamer adventure, the track offers free tours.
Tour an Animal Attraction – Given the heavily forested region of the Poconos, there is much to be found in the way of wildlife, including deer, possum, red and gray foxes, black bears, coyotes, and bobcats. Chances are that travellers will end up seeing one or more of these animals during their stay.
However, for visitors desiring 'exotic' wildlife, there are a few animal-based attractions in the area, starting with  Claws n' Paws Wild Animal Park (pictured left with a Clouded Leopard pup) which houses over 100 varieties of animals, many of which are exotic. The park allows for some interactive feeding experiences and produces two shows per day for guests. Similarly, there is the Pocono Snake and Animal Farm with a variety of animals and reptiles on the premises and some feeding opportunities for guests desiring a more up close and personal encounter. Lastly, Bear Mountain Butterfly Sanctuary grants an inspiring and peaceful atmosphere while allowing guests to walk through an indoor paradise where butterflies freely flutter and land on the foliage as well as on the visitors.
Try Your Luck at a Casino – Clearly, this suggestion does not fall under the category of a family event, particularly if the children are under the age of 21.  But for travellers that are age appropriate, there are 2 casinos in the Poconos, both of which offer gaming floors, live entertainment, restaurants and lounges, and upscale accommodations.
For starters, Mount Airy Casino (pictured here) offers 1,800 slots machines, along with Blackjack, Craps, Roulette, Poker and more.  But that's just the gaming floor.  The resort itself features a mix of standard rooms and suites, an indoor and outdoor pool, a spa and salon, a fitness center, an 18-hole golf course, business center, and a variety of dining options.
Or, there is Mohegan Sun Pocono, with 82,00 square feet of gaming floor and 238 guest rooms and suites.  With the exception of a golf course, it also offers many of the same options as Mount Airy such as a spa and various restaurants. However, Mohegan features more in the way of live entertainment, plus it houses a convention center and horse racing at The Downs at Mohegan Sun.
Play a Round of Golf – The Pocono region is littered with amazing golf courses, many of which have hosted famous tournaments and infamous players. Several of the area's resorts have on-site courses for enthusiasts to enjoy, including Pocono Manor Golf Club (shown here), Shawnee Inn and Country Resort, Split Rock Resort, and Mount Airy Golf Club. 
There is also Great Bear Golf Club, Timber Trails Golf Course, Hideaway Hills and Paupack Hills Golf Club, as well as several more, all of which offer stunning views of mountains and forest, indigenous wildlife, and a varied skill levels.
If you're an avid golfer, the Pocono area is a MUST. 
Visit a Vineyard – Among all of the forests and lakes, it's hard to believe The Poconos is also a great place to visit vineyards and wineries.
But the fact is, there are 7 family-owned destinations in the area, offering scheduled tours and tastings. These include Renegade Winery, RAW (Rowan Asher Winery), Big Creek Vineyard, Blue Ridge Estate Vineyard, Brook Hollow, Sorrenti Cherry Valley Vineyards, Franklin Hill, and Tolina Vineyards.  
To learn more about locations and tour schedules, visit Pocono Wine Trail.