Top 10 Autumn Activities in Ontario
Though it's disheartening to say goodbye to summer, it's inevitable – all good things must come to an end. Luckily, autumn is still temperate enough to get outside and enjoy the fresh air, and it's full of activities and festivals that are sure to get you moving and excited.  Instead of bemoaning the loss of flip-flops, shorts and bathing suits, we suggest you check out our list of the Top 10 Things to do this season. So curl up in some flannel, grab a pumpkin spice latte, and prepare to get into the fall spirit.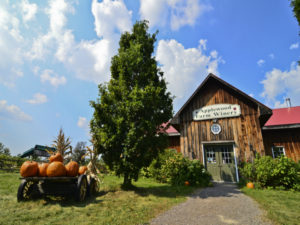 One of the most common fall activities is apple picking. Luckily, there are many orchards in the Toronto/GTA. Our favourite orchard is Applewood Farm and Winery located at 12416 McCowan Rd in Stouffville, Ontario. Admission is only $7.50 per person and $20 for twenty pounds of apples that you get to pick yourself! Applewood Farm offers a wide variety of apples that includes all the favourites – Macintosh, Red Delicious, Royal Gala, and many more. As their name suggests, they also have a winery. Sadly, it cannot be toured but we encourage you to try their Trio wine; made from purple raspberries, cranberries, and blackberries. Other alcoholic beverages include hard cider and apple flavoured whiskey. Applewood Farm and Winery are open for your business now.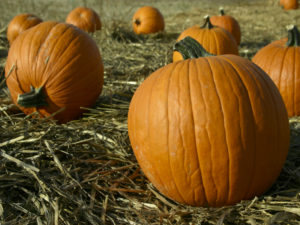 It's not really autumn unless you visit a pumpkin patch.  So we suggest Whittamores Farm, which is one of the best and is located at 8100 Steeles Ave in Markham, Ontario. This family-owned farm has plenty to see and do in their 'Pumpkinland', including a petting zoo, a pumpkin cannon show, wagon rides (that detour into a spooky forest) and, obviously, there's a sea of big, round, orange pumpkins to choose from. Admission on weekends (and Thanksgiving Monday) is $13 per person and during the week its slight lower at $9 per person. Whittamore's Farm is open from mid-September to Halloween and will definitely live up to your pumpkin expectations.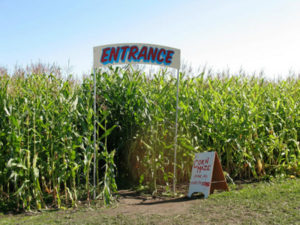 A corn maze is fun and challenging, it's also a great reason to get outside and enjoy the season. So grab your friends and laugh your way through Pingle's Farm Market Corn Maze.  At 1805 Taunton Rd, Hampton, Ontario, there is an 8-acre corn maze just waiting for you to explore. It's open daily through the months of September and October, from 8am to 5pm. This year, the maze will have a sports theme and will take approximately 45 – 60 minutes to complete. There is a nominal admission fee that has not yet been disclosed.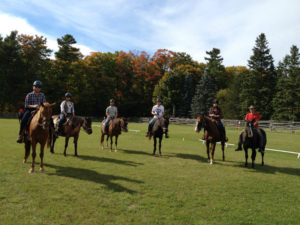 We can't think of a better way to experience the cool breeze and crispy leaves than on the back of a horse. So we suggest Pathways on Pleasure Valley, located at 2499 Brock Road in Uxbridge, Ontario. Pathways Pleasure Valley offers regular and private tours throughout September and October, from 10am to 6pm. Regular Guided Trail Ride $70 per person per hour. Private Guided Trail Rides $90 per person per hour. Romantic Rides $270 for 2 riders for 1.5 hours.  Well-trained equestrian guides will lead you through 225 acres of breathtaking, peaceful forest trails. Really, what could be better?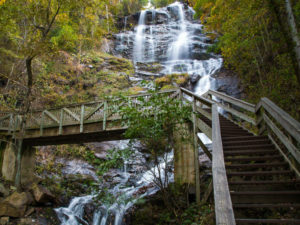 If you're not fond of horses, or they make you sneeze, don't despair.  There are other ways to get out and enjoy the colours of autumn.  For example,  Scenic Caves Nature Adventure in Collingwood is perfect for enjoying the outdoors and taking in the autumn scenery. With hiking trails, cave explorations, treetop trekking, a suspension bridge, and Ontario's only double zip line, there's something for everyone to enjoy in your family or group. All of these activities are actually more suited to autumn than summer, considering it's cooler and the views are spectacular among the changing colour of forest.  If you can handle the zip line that stretches 2550 feet long, descends 287 feet and reaches speeds of 70 KM/H, admission is $39.82 for adults and $35.84 for youth. This price includes access to the caves, trails, and bridge. If you can't handle the zip-line, park admission is $22.57 for adults and $18.58 for youth.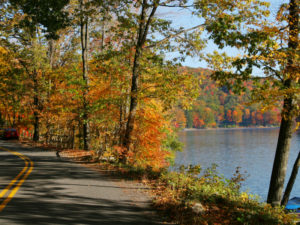 If you're feeling lazy and aren't up to hiking (you're not alone), a scenic drive is an ideal weekend pastime. Ontario is home to thousands of tree-lined highways and back roads that are sure to inspire you to take hundreds of photos.  Although there is no right or wrong place to go, especially as a destination is not the goal, there are a few routes that are standouts.  For example, Muskoka is absolutely beautiful as is the Collingwood area.  You'll also find quite a picturesque drive along the Niagara Escarpment. Check out our off-road autumn drive video at the bottom of the page.  Check out our off-road fall drive video at the bottom of this page.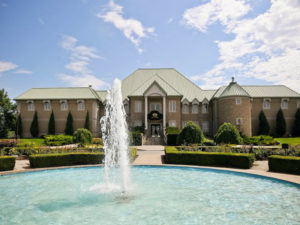 If you're in the Niagara area, head over to Chateau des Charmes winery at 10225 York Rd, Niagara-on-the-lake. For just $10 a person, you can tour their beautiful vineyards and taste some of their delicious wines. You also will receive a $5 coupon to use towards the purchase of their wines. We recommend buying a bottle of red as it makes some of the best sangria we at Been Here Done That have ever tasted.   The tours run every day from May through October, from 1pm to 3pm.
Fall sangria recipe via Pinterest: https://www.pinterest.com/pin/63754150952397489/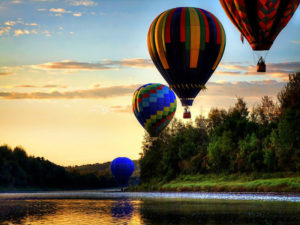 Imagine yourself soaring over the countryside, feeling the wind in your hair and admiring the autumn foliage below. Sounds peaceful, right? There are many hot air balloon companies that will take you on hour-long rides for various prices; however, our favourite is SkyWorks Balloon Co. Their highly trained and well-educated staff will take you to the departure site where you will wait and watch in awe as an 8-story balloon is filled. After a short briefing about lift off, your journey begins as you enjoy an hour of tranquility high above the treetops. You will then safely land and toast your voyage with a glass of champagne (non-alcoholic available). Prices may differ depending on what day of the week you wish to balloon. Visit the Skyworks website for more information.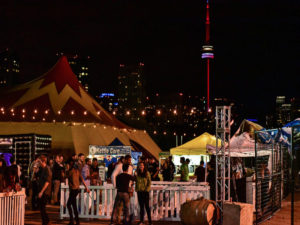 On September 30th and October 1st at Ontario Place on Toronto's Lakeshore, you can drink beer, eat till your heart's content, enjoy carnival rides, and dance at Oktoberfest.
You can also test your skill at a pretzel toss, bowl, play giant Jenga, and much more for just $30 at the door.  It's a small price to pay for an entire day of fun.
Closer to Halloween, you might want to take in the Toronto Haunted Walk. The walk allows you to hear some of the most spine-tingling ghost stories from the earliest days of the city.  The haunts include local theatres and terrifying encounters at Mackenzie House. You will never look at the city the same again! This tour departs from the courtyard in front of the Hockey Hall of Fame (30 Yonge St). Adults are $19.75 and Youth (10-14) is $15.75. You won't want to miss out on all of the stories about ghosts, graveyards, hangings, and haunts.  They will spook you for sure!