Top 10 Cities in which to Celebrate New Year's Eve
We're not quite sure where the year went, the months melted into one another at an alarming rate and seemed to pick up speed as of September onward. And once again, people around the world look toward ushering in a New Year. Many folks believe the way they celebrate this special night will set the tone for the upcoming year so they strive for something unique, exciting, or romantic in order to do it up right. With this in mind, we bring you the Top Ten Cities in which to Celebrate New Year's Eve.
DISNEY WORLD – Let's start with the most family-friendly environment we can think of – Disney Worldin Orlando, Florida which offers up a magical night of celebratory parades, and stunning light shows and fireworks that come together to create a memorable experience for everyone to enjoy, regardless of age.
In general, this theme park does the holiday season in style with plenty of merriment and special performances and festivities. But it's a particularly nice way to ring in the New Year for families.
SYDNEY, AUSTRALIA boasts one of the largest fire-in-the-sky displays in the world with over million people gathering in Sydney Harbor to see the amazing show which is held over a 3.5 mile long stretch of water. Not to mention that celebrating 'down under' means you get to be among the first people in the world to ring in the New Year.
However, if the excitement of the harbour isn't enough and you still have a yearning to party you can venture onto Bondi Beach's ultimate dance party where the celebration continues all night long.
TIMES SQUARE – If you're into iconic experiences and celebrating with a million people at once, then New York City's Times Square celebration is for you. With a stage set in the midst of the action, the party is hosted by celebrities and features musicians and comedy while waiting for the 'ball drop', in which a 12-foot-wide crystal ball weighing nearly 12,000 pounds descends atop One Times Square.
If you're not entirely sold on the idea of standing for hours among the jam-packed crowd, considering booking a table at a restaurant or bar overlooking Times Square. Another option is a boat ride in the harbour, from which you can enjoy the fireworks display on Liberty Island.
LONDON, ENGLAND – Celebrate as Big Ben chimes and more than 250,000 line the bridges and the banks of the Thames to watch the light show and fireworks display.
But the fun needn't end there, as there are a multitude of pub parties to attend throughout the night and the celebrations continues on New Year's Day as the streets of London fill with people yet again, this time for a parade that includes marching bands, colorful floats, dancers and a procession of the Queen's horses.
PARIS – Looking for a romantic celebration? It doesn't get more romantic than in Paris. Opt for a gourmet dinner at one of many first class Parisian restaurants and then a stroll along with Champs-Elysee where thousands of people fill the streets to watch the light show and fireworks above the infamous Eiffel Tower.
If that seems like a little too tame, then get your party on at one or more of the many clubs in Paris. Get crazy with the girls at Crazy Horse, or dance the night away at Eve L'Aquarium, a giant tropical aquarium with a fairytale setting below the Trocadero palace and directly facing the Eiffel Tower. Sounds magical, doesn't it?
MIAMI is a party town on any given night of the week. So it's a no-brainer for New Year's celebrations, not to mention that it's warm, with an average temperature of 75 degrees Fahrenheit. So unlike celebrating in NYC, you won't be freezing your butt off.
The festivities in downtown's Bayfront Park start at 8 pm and include dancing and fireworks at midnight; in South Beach, Lummus Park on Ocean Drive hosts a party from 9 pm to 2 am, which also includes live music and fireworks. For party people, Miami's glitzy hotels host exclusive events with big-name acts, open bars, and private fireworks displays to boot.
RIO DE JANEIRO – If you thought Carnival in was fun, try New Year's Eve on Rio's Copacabana Beach.
During the day people head to the water to lay flowers on the beach as an offering to the Sea Goddess 'Lemanja'. Then at night, the party starts. Famously held each year on Copacabana beach, over 2 million people gather in white outfits – white is said to bring luck for the New Year – to party the night away on the 2.5 mile stretch of sand. Celebrations officially start around 8pm when live music shows from Brazilian samba to rock bands get the crowd in the mood, and it often ends in getting doused with champagne, sprayed F1-style by rapturous crowds.
HONG KONG – Take in spectacular views during the final moments of the year in intense, frenetic Hong Kong. Watch the countdown fireworks over Victoria Harbour from a traditional junk along the shoreline or from one of the city's many world-class rooftop bars.
Every neighbourhood is party central in the Pearl of the Orient on New Year's Eve, from Hong Kong's Times Square ball drop to the enormous digital clock countdown at the Two International Finance Center.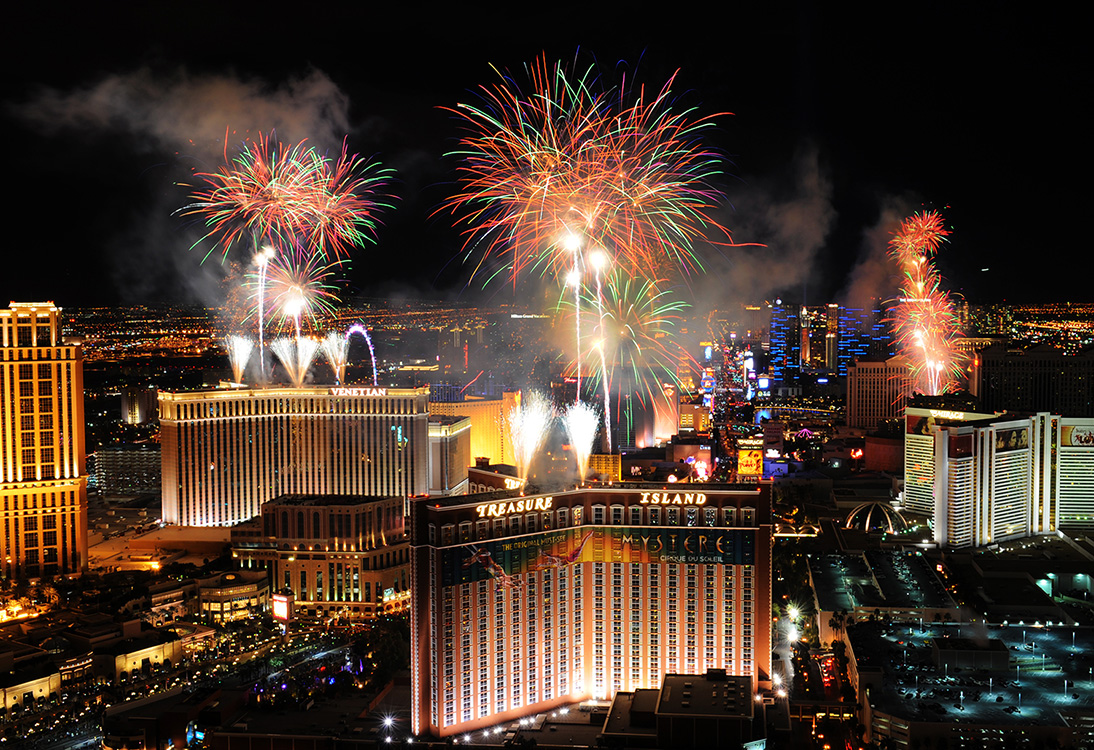 LAS VEGAS is over the top all year long so it's difficult to imagine the city ramping things up any further… but they do.
300,000 people descend on Vegas for New Year's Eve, as the city transform the Vegas Strip into a giant street party with live bands and laser shows.
Vegas also hosts an outrageous number of shows, concerts, and parties in the clubs, hotels, and casinos so there's just no end to the entertainment options. Then at midnight, fireworks are launched from seven rooftops along the Strip, so chances are you'll see them from the street or from your suite.
DUBAI – This is a city that is an over-the-top spectacle year round so it's hard to believe it can get any better on New Year's Eve. But it does! Explosive fireworks are visible from every aspect of the city, but the best views are undoubtedly from the city's skyscrapers, especially the Burj Khalifa, the world's tallest, where remarkable parties are held on the 122nd floor.
At one time, Dubai held the world record for the biggest fireworks display ever, launched on New Year's Eve 2013. Since then, however, the Philippines managed to surpass it in 2016. It's almost a sure thing that Dubai will find a way to be recognized as the best once again. Maybe it will be this year! So you should go!