Golf Destination: Tuscany
When discussing the world's great golf destinations, likely Italy is not the first country that comes to mind. The region of Tuscany, specifically, is most often thought of as an exotic region featuring gorgeous vacation villas, breathtaking vistas, vast vineyards, wine tours, and fabulous gourmet food.
However, the announcement that Italy would host the Ryder Cup in 2022 coupled with a recent tourism campaign of Golf & More has shed light on the fact that the region has some incredible golf opportunities that should not be overlooked.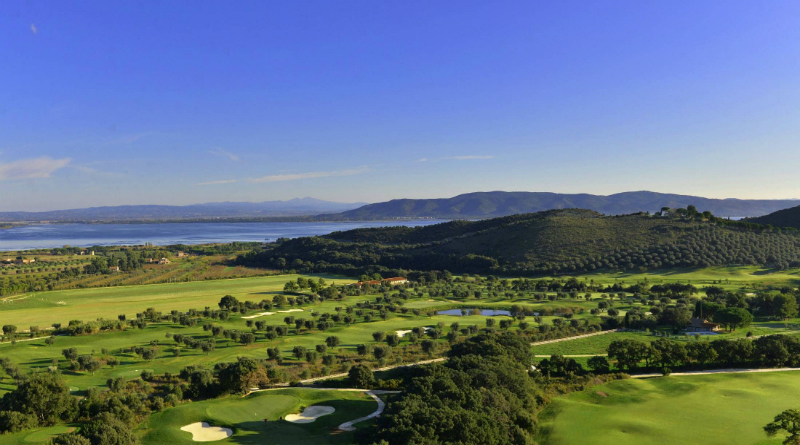 Argentario Golf Course, which provides views of the Orbetello Lagoon and the Tyrrhenian Sea, is an 18-hole design by David Mezzacane (an Italian architect), and golfer Badlovino Dassù. Located on a luxury resort and spa in southwest Tuscany, Argentario was modeled in 2006 and is notable for its stunning landscape and challenging layout. The 6,218-meter, Par 71 course presents 2 distinct terrains with the rolling front nine meandering in and out of the flora and fauna of a cork-oak forest while the back nine takes players through ancient Italian olive groves.
The course features fast-paced greens, several water hazards running adjacent to the holes, and challenging, rolling fairways that are akin to a links-style layout.
Argentario's location is in a protected natural area that is a mere five minutes from the Duna Feniglia Nature Reserve so the build and ongoing maintenance required extensive thought given to the environment. To that end, all natural products are used for course maintenance, and players can marvel at an increase in wildlife that includes rabbits, deer, and a variety of birds.
This well-equipped golf club features a driving range, on-hand instructors for lessons, and the latest in simulators to be used for practice.
For golfers that can't get enough of this picturesque Italian region, other courses within a 2-hour drive of Argentario include Golf Club Toscana, Terme di Saturni, and Punta Ala, a course that boasts a beautiful sea view.
Punta Ala is 6.168 meter, Par 7 course that opened in 1964. Set in the Maremma Brushwood, it has rolling fairways and is surrounded by an assortment of trees and thick vegetation. Considered to be among the most scenic golf courses in Tuscany, and in Italy as a whole, Punta Ala is located only a few kilometers from such tourist cities such as Castiglione della Pescaia and Follonica.
If you're the type of golfer that loves to travel and explore new courses along the way, Tuscany most definitely should be on your list to try. Go BEFORE the Ryder Cup so you can tell people you played a few rounds in this beautiful golf destination long before it was cool.
Photos Courtesy of argentariogolfresortspa.it