Top 10 Luxury Hotels in Dubai
The ever-popular United Arab Emirates destination of Dubai leads the world's highest hotel occupancy rates. Stats indicate that in 2012 alone, the city hosted a record 10 million visitors.  With numbers like that, it's no small wonder that Dubai is always on the move to create more hotels – each bigger, better and more luxurious than the last.  As proof, in April of 2014, it was announced that another 140 hotels would open by 2016, and would contain 32,000+ rooms.
The ongoing changes and additions to the hotel landscape are not unlike that of the ever-changing Las Vegas strip, where the number of individual hotels cannot compete with Dubai but the room count is similar. Also similar is that theme hotels are prevalent in both locations. However, it's no secret that Dubai does luxury destinations much better, and takes the red ribbon when it comes to extravagance.
With so very many 5-star Dubai hotel choices, all of which have their own appeal with unique architecture and décor, it's difficult for travelers to know which to choose.  So, to help our readers sort it out; here are 10 of the most outstanding.
For more information than we have provided here, and to be taken directly to the hotel website, hover over the hotel name in blue. 
Atlantis – Let's start with perhaps one of the most well-known hotel properties in the UAE, which sits on the largest man-made archipelago in the world – Palm Island.  This hotel is the sister property to the hotel of the same name on Paradise Island in the Bahamas. Similar to the Bahamas, Atlantis, The Palm boasts an Aquaventure Water Park and a massive lagoon which is home to a variety of fish and sea mammals for interactive experiences.
The hotel complex also touts luxurious accommodations, 15 restaurants, salons, a fitness centre and spa, and a nightclub with live entertainment.
A week here in the fall could run anywhere between $2700 US for a regular ocean view room, which is on the low end of the scale, to $106,000 US for a week in a Royal Suite.   If you're looking for a room that lands somewhere between the two, try an underwater Neptune or Poseidon suite at approx $45,000 US for the week, with stunning views of ocean life right at your bedside.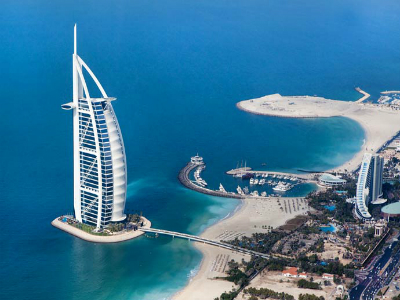 Burj Al Arab – This is another Dubai hotel that falls into the category of being so well known that it's info and stats do not require repeating. But let's repeat them anyway.  For starters, Burj Al Arab is an architectural wonder given that it is shaped like a sail.  It's also the world's ONLY 7-star hotel and, like Atlantis is built atop a man-made island.
It's the fourth tallest hotel in the world and houses 9 restaurants and bars, one of which features a massive aquarium.  There is a fitness centre complete with trainers, private butler service, dream car rentals are available, a kid's club and water park caters to younger guests and a helicopter is there to deliver guests in an unforgettable, over-the-top kind of way. As if the regular rooms and suites aren't elegant enough at approx $1400 US per night on the low end of the scale, there is a Royal Suite priced at $24,000 US per night.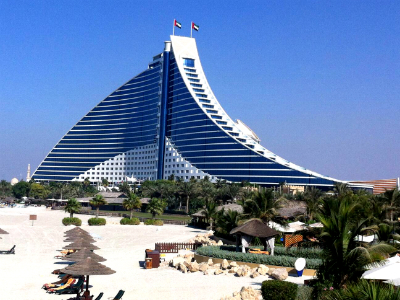 Jumeirah Beach Hotel – Built to complement the sail design of Burj Al Arab, the Jumeirah Beach Hotel takes the shape of an ocean wave and features a whopping 20 restaurants and bars.  The hotel contains 598 rooms and suites plus 19 beachfront villas.
Although the building does not rank among Dubai's tallest buildings, it comes with its own unique and interesting features, such as 364,000 sq ft of beach and Wild Wadi Water Park.  Despite that this hotel carries a 5-star rating, it is among Dubai's less expensive options with a superior ocean front room at $455 US per night and climbing to $2100 US per night for a Royal Villa.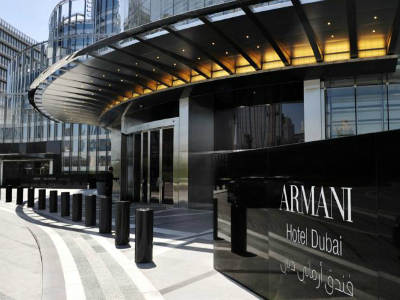 Armani Hotel – One only needs to read the name of this hotel to know that it stands out in a crowd – Armani. Yes, Giorgio Armani, the designer is the man behind these accommodations, which occupy eight floors of Burj Khalifa, the world's tallest building. Armani personally oversaw quite literally everything associated with this hotel so it's no small wonder that his high standards make this hotel a standout.
Ultra modern, ultra chic with clean lines and maximum sophistication, this property houses 5 restaurants and 2 lounges, a spa, retail outlets, and even some residences.  Prices range from $472 US per night for a regular room to $612 US per night for a suite.
Jumeriah Creekside Hotel – One of the newer hotel properties in Dubai is The Jumeirah Creekside Hotel, featuring 292 rooms and suites.  Also housed within is a private screening room and an Arts & Cultural program, which undoubtedly is a unique feature for a hotel.
Creekside also offers a few restaurant options. One of the most unusual features of this hotel is the glass bottom pool which acts as part of the lobby ceiling. Guests checking in and out have a clear view right into the pool which is 25 metres above the lobby with access via Cu-Ba, the hotels' Cuban lounge.  Creekside's upscale casual ambiance brings with it a vast price difference in rooms, with a king room costing approx $175 US per night and a penthouse running as high as $2065 US per night.
JW Marriott Marquis – Standing an imposing 1,164ft above the ground, this double tower hotel soars above most buildings in the Dubai skyline and is crowned the world's tallest hotel. Although the architectural design does not provide the wonderment of Burj Al Arab, Burj Khalifa, or Jumeirah Beach Hotel, JW Marriott is still quite unique and is renowned for its excellence.
Featuring 1,368 luxury rooms and 240 suites with marble bathrooms with rain showers, this hotel is built to pamper with a spa, fitness club, and a stunning pool. Also housed within the property are 12 stunning lounges and restaurants, each catering to a different cuisine – Italian, French, American, Indian, Thai, Japanese, etc. There's no denying, this hotel is a cut 'above' the rest. Rates for 2 adults in a regular guest room run approx $242 US per night and climb ever-upward to $9500 US per night for the penthouse.
Raffles Dubai Just 15 minutes from Dubai International Airport, this 19-story hotel takes influence from Egypt with its pyramid shape and exterior statues and hieroglyphics.
Raffles rates as a 5-star hotel and the property contains 252 rooms and suites, 6 restaurants, and a fitness centre.  The spa here was one of the first to offer a 24-carat gold facial treatment.
Raffles Garden is located on the third floor and represents life's essential elements of earth, air, water, and fire.  Room rates span $284 US per night for a regular guest room to $804 US per night for a suite.
Kempinski Hotel – Yet another 5-star property is the Kempinski Hotel Mall of the Emirates and it just might take the prize for most unique considering it is attached to UAE's first indoor ski slope as well as one of the biggest shopping malls in the world.
This 17-story hotel has 393 rooms and suites, 15 of which are chalets that overlook the ski slope. The pool terrace is located on the second floor.  A business centre is also available in case your stay here is less about vacation and more about work.  Room rates vary between $337 US per night for a deluxe room to $4900 US per night for the Presidential Suite.  Two and three bedroom Ski Chalets land somewhere in the middle at approx $3000 US per night.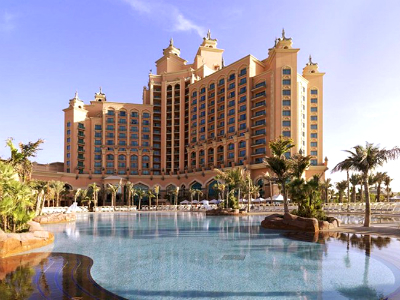 Fairmont The Palm Hotel – Located on the trunk of Dubai's man-made palm tree island (Palm Jumeirah) is the appropriately named Fairmont The Palm Hotel.  The Palm features 460-metres of beachfront, a health club and spa, a ballroom, conference and business facilities, swimming pools and a children's activity centre.
As for accommodations, the hotel offers 381 rooms comprised of Queen and King size options, as well as VIP and Presidential Suites.  One bedroom units are spacious at 1550 square feet and two bedrooms offer 2400 square feet, not to mention gorgeous views.  Rates start at $305 US per night and top off at approx $490 US per night.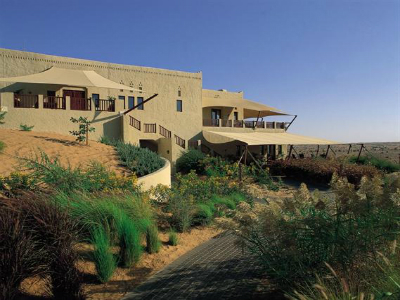 Al Maha – Looking for something a little less modern city and a little more Arabian desert?
You can find it at Al Maha.
Book the Presidential Suite for upwards of $2900 US per night and be treated to a 3-bedroom suite with a private chef, mini bar, and a temperature controlled 10×8 pool.
This hotel allows for experiences such as horseback riding, archery, falconry and the thing that most people can clearly imagine when venturing to the Arabian desert… camel treks, all of which can be arranged with the hotel concierge. Regular room rates are approx $1500 US per night.
**All rates have been calculated based on a one week stay during the first week of November, for 2 adults.