Destination – Valladolid, Yucatán
The city of Valladolid is located in Mexico's Yucatan Peninsula, approximately 150 km west of Cancun, 40 km east of the Mayan Ruins of Chichen Itza.  Originally named Zaci and inhabited by the Maya people, the scenario changed drastically during the Spanish invasion of the region in the early 1500's.  It was then the stones of the city were used to reform the settlement, which was renamed Valladolid after the capital city of Spain at that time.
Due to its steeped history, colonial architecture, unique culture, and the utterly charming community that it is today, it is a MUST-SEE.  Fortunately, the city is very visitor-friendly, with key sites containing bi-lingual signage to assist English speaking tourists.  It's the kind of place that truly makes you feel as though you've 'traveled' as opposed spending an entire week poolside at a resort.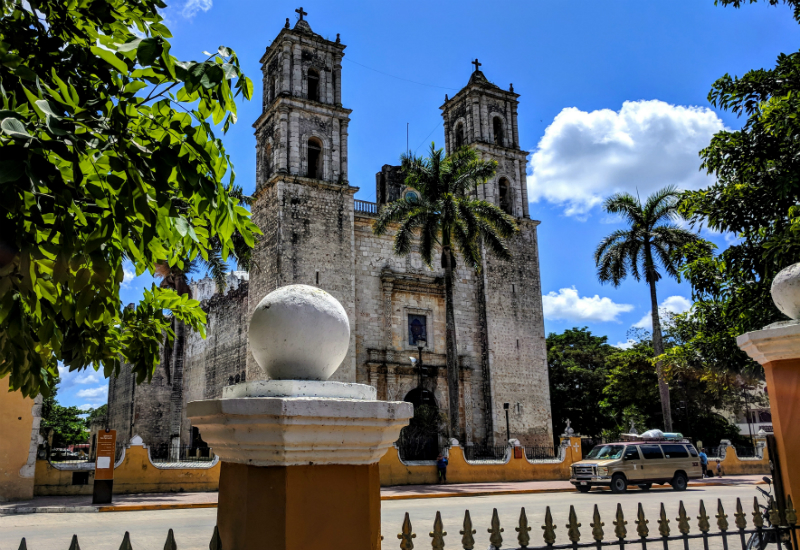 Visitors, get your cameras ready because there is a lot to capture, from sidewalk cantinas to pastel-colored homes and businesses lining the streets.  A romantic gathering area called Francisco Cantón Park fills the main square, offering up-close views of the Cathedral of San Gervasio, also known as the Church of San Servacio.
Originally built in 1545, sadly the church was destroyed by the political upheaval. It was reconstructed in the early 18th century and still contains remnants of early Mayan stone. Inside contains an elaborate alter as well as a life-sized Christ statue encased in a glass casket.
Across the street, Palacio Municipal (City Hall) features the City Crest, naming Valladolid as the Heroic City.  Entry is free, and tourists can find a set of captivating murals on the second floor, all of which depict the city's history, from Mayan occupation to the Spanish Conquest to the Mexican Revolution.  Second level windows feature spectacular views of the park, the heavily trafficked pastel streets, and the cathedral.
And you won't want to miss the little ice cream shop located opposite the front door of the Municipal Building, which sells a sweet juice made from the nectar and seeds of Pitaya fruit, also known as Dragon Fruit.  And be sure to taste their homemade coconut ice cream. Both are flavours you'll never forget.
Other places of interest include the San Roque Museum, the Mercado de Artesanías (Handcraft Market) and Casa de Los Venados (House of the Deer) which is a private home that features Mexican folk and contemporary art.  There is also a wide assortment of shops that are perfect for browsing, as well as several craft carts set up around the park that sell compelling Mexican art and souvenirs.
There are several colonial, boutique-style hotels to be found here, decorated with absolutely gorgeous gardens and courtyards, most of which are well under $100 a night.  However, if you're on a tighter budget than that, there are also 12 or so hostels in the region, all of which boast their own colorful artwork and gardens.  Even if you don't plan on spending the night, most of these are worth a look, even if just to snap a photo of the vibrant and arty entranceways and patios.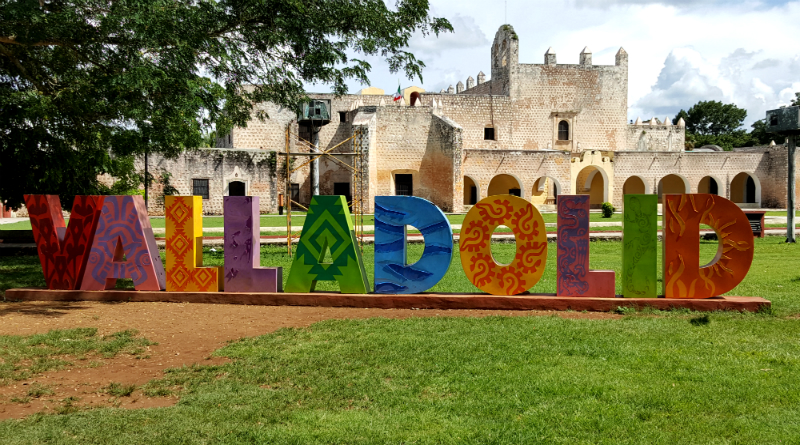 Stop at the Valladolid sign for a picture-perfect photo for Instagram, and be sure to check out Convent of San Bernardino de Siena, believed to be one of the oldest churches in North America.
According to stone etchings on the facade, the church was completed first, followed by the convent in 1613. It was the first home of the Franciscan Order in the city, used to 'convert' the Yucatan Maya descendants. Inside, the wooden altarpiece is decorated in gold with sculptures and floral detailing.
Spanish courtyards, banyan trees, scooter-filled streets, and an abundance of quaint sidewalk eateries featuring authentic cuisine, all come together to offer tourists a bona fide Mexican experience you simply can't find in a resort town like Cancun or Playa Del Carmen.
The growing popularity of Valladolid has caused numerous local tour companies to include it on their lists of destinations, often bundling it with a stopover at the highly attended ruins of Chichen Itza or with a swim at the nearby Zací Cenote or Cenote Ik Kilso.
However, if you want to see it in comfort and style, we highly recommend booking a private tour with Canada Transfers.  In the meantime, come along with us on a mini tour of the city by watching our video below.
** Photos and Video belong to Been Here Done That (BHDT Magazine) and are copyrighted.  Please do not copy or share without permission.  Thank You.